Father Nandu and the Wolves
Julian Garner
Wilton's Music Hall in association with CulturaMobila
Wilton's Music Hall
–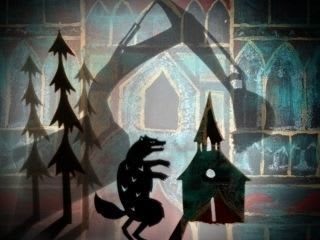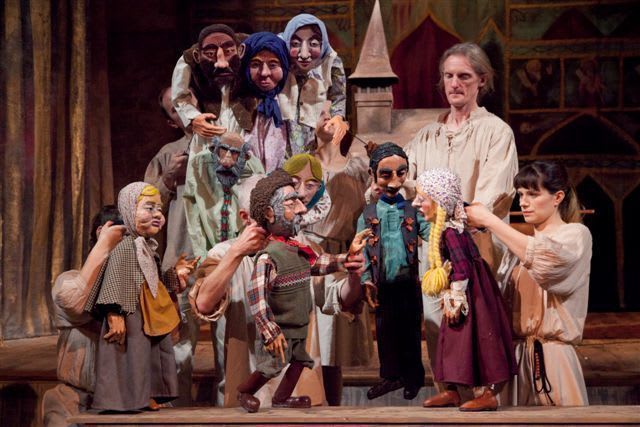 Although set in Romania's Transylvania in the final years of the Ceausescu regime, this is not really about politics but a celebration of traditional culture that mixes live performers with puppets—some small and some huge—a shadow show and a gypsy band who are playing before the show.
It is set in front of a towering cloth painted as an Eastern Orthodox iconostasis. On a table before it is a model of the wooden village church that houses it, made by father Nandru, who is there having a tipple and binding up scissors and sheers for, as he tells us, today is:
30th November—Saint Andrew's Day.
Some folk who should know better, say
That on this night, in forests deep,
The wolves a dark appointment keep
And in the shadows there debate
The coming year's campaign of Hate.
In fact, although the villagers fear them. The wolves don't turn out to be terrible at all for all their howling. Huge, shaggy beasts with matted fur, they come to Father Nandru to be married by the crown-exchanging rite of the Eastern Church, just like Evaline the village girl with the lopsided face and Vadim the lame gypsy lad who are the leading figures in the story.
Mind you, it takes some time before those two come to church. For that they take the form of towering puppets three times life size. First we meet them as half-size figures when they meet at the play's beginning.
Evaline thought she had seen Vadim dancing over bonfire flames. She was captivated and, even when it turns out to have been his twin brother, the two prove "each to the other Heaven-sent" and they set up home deep in the forest, which proves a blessing when villagers need to hide their treasures from Ceausescu's officials. On the way there is opposition from both gypsies and Evaline's family, whose ancestors founded the village.
Drawing on recent history, traditional rituals and incorporating a fertility dance involving villagers becoming goats, this eclectic mixture produces its own charm and carries a message of hope and reconciliation that culminates in the almost magical resurrection of the village church, surviving Ceausescu's programme of destruction of old communities in his agricultural reforms, presented here through imaginative theatre skills.
There is charming puppetry and lively music and if voices are not yet clear in this acoustic you still get the sense from the bouncing rhythms and bold rhyming of Garner's faux-naïve couplets and the images so diversely created under his direction.
Father Nandru may like his bottle and that may undermine his authority but Jonathan Stone at first makes him a little too laid-back. As the character who holds the play together, he needs to control the audience if not the village. But if it takes some time for authority and pace to be established, the opening slowness helps facilitate a sense of ritual.
Steward Fraser voices Vadim and Lori Hopkins Evaline, Melissa Stanton and Francis Wright her mother and father, while Samantha Arends is the Shepherd who leads the dancing goats and Kevin James plays other roles. Together they form the company of puppeteers, manipulating or inside the figures, designed by Hanne Horte-Garner and made by Peter Case and Pickled Image, that dominate this show which gains extra energy from the band: Anna Ashanta Csergö, András Levente Nyílás and Rudolf Tóni.
Father Nandru and the Wolves is the last full-scale production at Wilton's before building work begins in May, during which history tours of the building and some events will still continue.
Reviewer: Howard Loxton