Faulty Towers: The Dining Experience

Interactive Theatre International
B'est Restaurant
–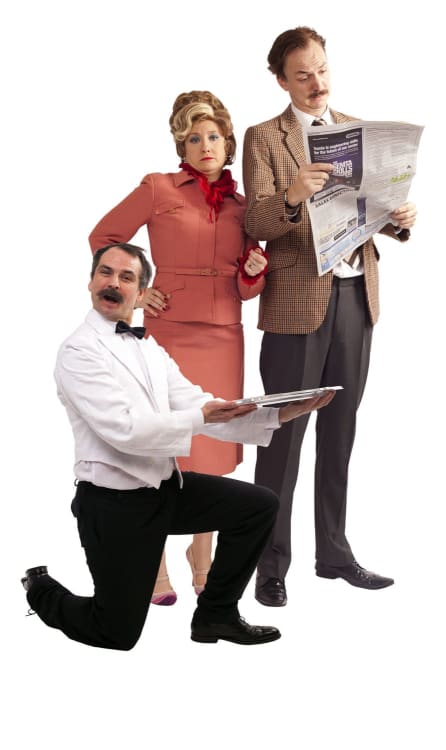 I have never had so much fun or laughed as much over dinner until having a meal at Faulty Towers: The Dining Experience.
This extremely popular show has been selling out at the Fringe. This is its 7th year at the Festival and it is a delicious feast.
The enthusiastic audience wait outside the B'est Restaurant in Drummond Street whilst we are allocated our tables.
But things don't go according to plan since a suspect package, that could be a bomb, has been found but it turns out to be Sibyl's ukulele.
We are in the somewhat dubious hands of Basil (Benedict Holme), Sybil (Karina Garnett) and Manuel (Leigh Kelly) from the hit television series Fawlty Towers and the evening is an absolute hoot.
The actors have perfected each of the idiosyncrasies of these characters from Basil's lanky movements to Sybil's shrill voice and her raucous laugh.
Manuel's subservient shuffle as he tries to make sense of Basil barking at him in English produces many misunderstandings such as, "roll on plate" when he does exactly that rather than putting the bread roll on our plates.
Be prepared for Basil's German scene and the fire warden absolutely classic.
I really can't spoil the hilarious outcomes, but there is so much interactive audience participation that created even more mayhem and fun that brings a new meaning to improvisation.
Many of the classic moments from the television series are recreated to the absolute delight of the diners.
And yes we do get a 3-course, '70s-style meal served, or in some cases not, as Sybil and Basil confront each other.
This is a must-see event and it's selling out, so do book soon.
Reviewer: Robin Strapp