Faust
Choreography by Robbie Graham
Southpaw Dance Company in association with Sunderland Stages
3rd Floor, St Mary's Car Park, Sunderland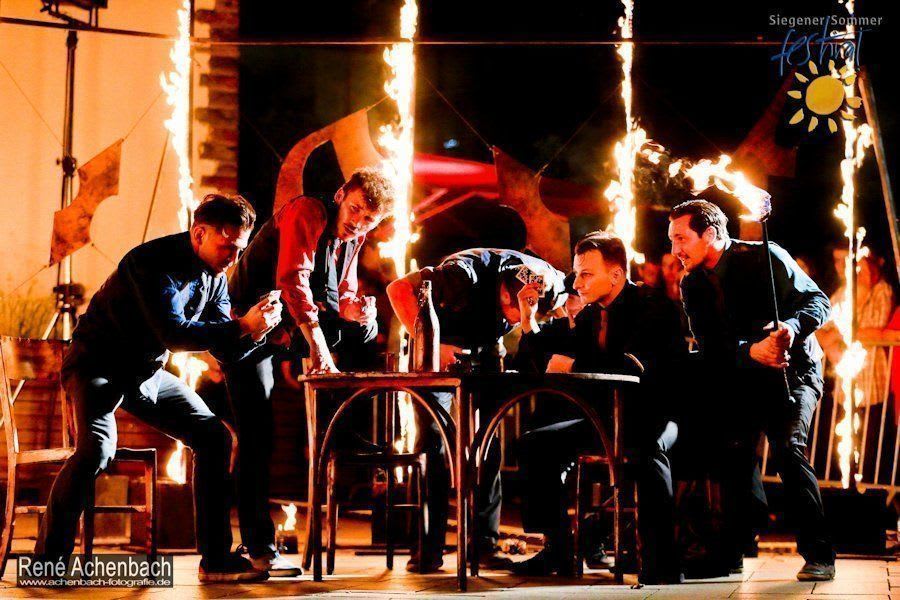 It's not easy to justify calling a theatre piece of any kind "spectacular" unless it's had vast amounts of money thrown at it—film has claimed this territory for its own—but I would certainly argue that Southpaw Dance Company's Faust definitely qualifies.
Faust, we know, ends up in Hell so Southpaw makes breathtaking use of Hell's most notorious characteristic: fire. Fire surrounds the stage; there is a little stage lighting but it is dim—fire is the primary light source. The protagonists drink cocktails of fire. Fire is "painted" on the floor and the dancers walk and run and dive through it. There's a boxing ring made of fire surrounding battling dancers. Much of the back wall of the set burns.
Frankly, Southpaw makes those fire-eating and juggling street entertainers pale into insignificance!
No wonder an outdoor setting is essential and the top storey of the car park is the perfect venue: open on all sides, plenty of space and with a roof above.
This is Goethe's Faust, the dissatisfied intellectual who wants more than what his life offers. He (played by choreographer Robbie Graham) wanders into a speakeasy—the setting is the 1920s—where he sits with his book until the Devil arrives and Faust becomes enmeshed in his coils.
The music is twenties big band with a touch of the blues—although somehow Dave Brubeck's "Take Five" slipped in there, surely early sixties?—and the dance style is Breaking with more than a touch of Lindy Hop and a lot of Charleston. At first sight it's a strange combination but they fit together really well.
The energy and—most importantly, for their own safety!—the precision of the dancers is hugely impressive and, if there is still something of a prejudice against recognising break dancing as an art form, this piece surely knocks that on the head once and for all.
It's a highly charged, riveting 44 minutes which had the audience whooping and cheering as the company launched into a five-minute b-boy battle, each showing their prowess. There wasn't a single winner—there were six.
Sunderland Stages should be congratulated for bringing this piece to a city which has been starved of high quality modern dance for a long time.
Reviewer: Peter Lathan