Faust
Goethe, translated by John R Williams
Dumbwise Theatre and Greenwich Theatre
York Theatre Royal De Grey Rooms
–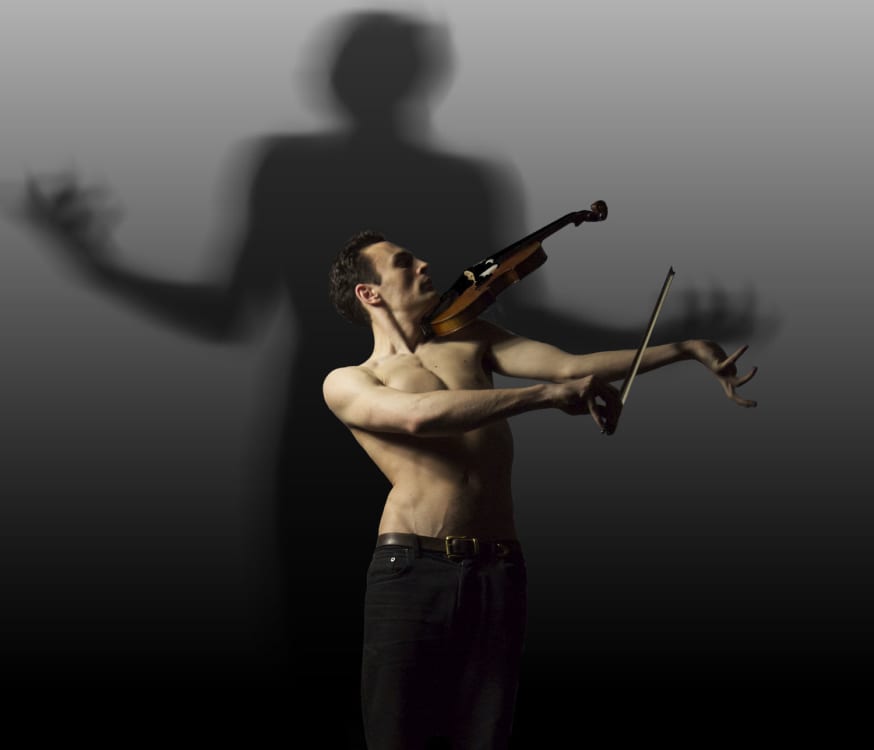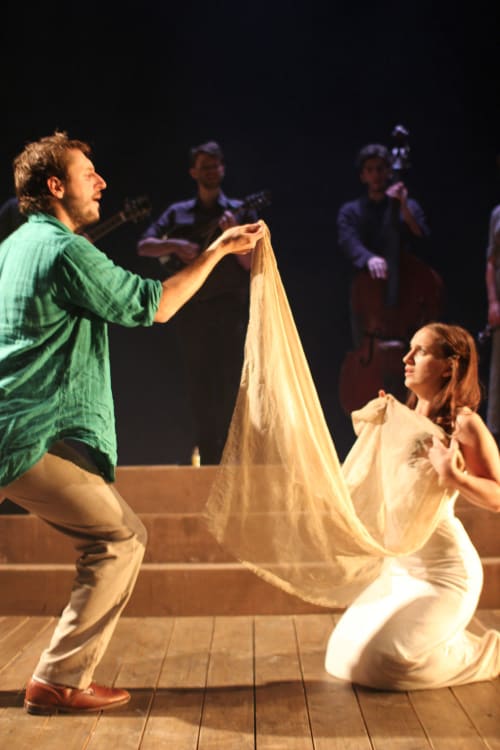 Dumbwise is a small, fresh company of actor-musicians with a growing list of successes under its collective belt. Its version of Goethe's Faust is a clear demonstration of the raw talent and energetic, imaginative musicianship which is bound to go on winning it plaudits.
The show is touring to a wide range of venues, and the cavernous ballroom setting of the Theatre Royal's De Grey Rooms, more commonly home to tea dances and weddings, provided a characterful backdrop to their visit to York.
The performance opened uncertainly, with the minimal, makeshift lighting seeming somewhat temperamental, and the limited staging of the opening moments providing a static image which limited the power of the actors. The text, adapted from a modern, compulsively rhyming John R Williams version, plays it straight at first.
It gets better—much better. The music kicks in with a stirring song of persuasion, built around percussive use of the double bass, in which Mephistopheles (David Burnett) and the ensemble talk Faust (Adam Patrick Boakes) not only down from the precipice, but up to an ecstatic, almost power-crazed cry of "let's do it!".
Boakes's Faust, at this stage, is wired but nervy, and the adrenaline rush of the first song clearly wears off, leaving the nerves but none of the bluster. So Mephistopheles tutors him into picking a fight on a night out—"People ask me what Hell is like / I say go down to the pub on a Friday night". From here, the versatility and imagination of the musical direction, courtesy of multiply-talented David Hewson, takes flight. There are snatched pastiches of popular song, and the straitlaced Faust learns slowly to spit rhymes like a reluctant Mark Grist.
Lovely little touches abound in the characterisation and composition. When the pub night inevitably turns to clubbing in the satanic pair's quest for further debauchery, the musicians wittily evoke the distant thumping of a nightclub and Hewson (on acoustic guitar as well as several other instruments) becomes wide-eyed with pills, bobbing compulsively to the beat.
There is humour and wit throughout, as well as earnest, beautiful four-part harmony. Especially in the setting of the De Grey Rooms, this reverberates and aptly conjures the saintly setting in which Faust spies Gretchen (Eilidh deBonnaire), the impossible object of his desire. The simple finger-picked melodies which underpin her burgeoning love for Faust cleverly switch to a minor key as soon as Mephistopheles steps onto the raised stage.
DeBonnaire sings beautifully, with a range plunging into warm depths. She is perfect as the devout, pure Gretchen, but also, like most of the rest of the cast, displays impressive variety in multi-roling and multi-instrumentalism.
Jofre Alsina, who plays double bass for the most part but is not averse to a spot of mandolin, relinquishes his instrument (handing over mid-song to equally talented Samantha Sutherland) to become Gretchen's protective brother Valentin.
The one truly impressive piece of physicality in the show comes in his dual with Faust, in which (unbeknownst to him) he has to overcome two men—Mephistopheles going from trainer to puppet master as he literally guides Faust's hands. Alsina deserves particular credit for the feat of simultaneously playing double bass, singing intricate backing harmonies, and walking down stairs.
David Burnett as Mephistopheles is handsome in a dangerous, cynical way, insinuating his way around the stage and sniggering at Gretchen's heartfelt admission of love for Faust.
Adam Patrick Boakes is an Everymannish Faust, not especially bookish but driven, in this version, mostly by his lust for Gretchen. The modern folky undertones of much of the music provide a perfect vehicle for the doubts and regrets of his dawning realisation that his having her destroys the very purity he desires in her.
As Martha, Samantha Sutherland is stern with Gretchen but her rapid infatuation with the indifferent Mephistopheles is well-depicted. She also makes a striking witchy chorus member and performs memorably in a wild clarinet duet, as well as playing accordion for many of the other songs.
This translation is often rhyme, as distinct from poetry—do not expect the eloquent verse of Marlowe's version of the story. But it's modern, laced with wit, and its stresses and rhythms shift constantly in interesting, often effective ways. It's in the fine detail of the storytelling, performances and composition that this company's talents shine.
More versatile lighting and staging would have enhanced the atmosphere even further—at times the show feels like a gig with the addition of a linking story—but it's a great gig in any case. There is a thrill at seeing these talented, likeable performers exchange instruments and idioms with abandon. You wonder who they've done a deal with to get so good.
Reviewer: Mark Smith