Faustaff or the Mockery of the Soul
Diego Sosa
La Compañia Perpetua in collaboration with Artistic Producciones
Cockpit Theatre
–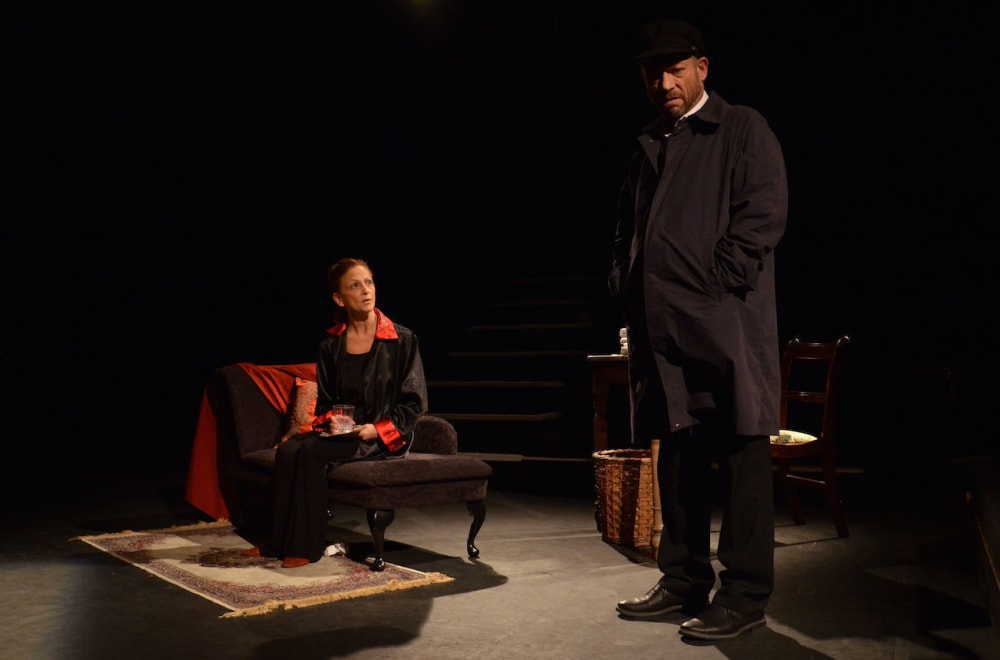 It is there in the title: Faust and Falstaff. This is a play inspired by the legend of Dr Faustus—though I'm at a loss to see where that old rogue Falstaff comes into it whatever the show's publicity may imply.
This is an international venture between Mexican and British-based companies. Faustaff premièred last month in Mexico City, directed by British Frank Kaye, and is running concurrently with this British première a Mexican première with a Mexican director, Rodrigo Johnson.
It is the story of a female Faustus, Gily Jacoby, a writer who makes a pact with the Devil. It is a play about the overlaps between real life and fiction, sometimes surreally comic and in this production certainly quirky.
The play opens with Jacoby, played with unnatural awkwardness, having an interchange with an offstage domestic whom we learn has a sick daughter. This isn't an attractive mistress but it's an odd household. When the maid eventually appears, she is accompanied by a topless manservant wearing a maid's outfit. What is real here and what isn't?
Jacoby has had success with a first novel and her publisher has commissioned a second but she is late in delivery—in fact she has barely begun it. Her editor is pressing her for it. That's when a somewhat shrill-voiced, rather camp figure turns up to help her: Eddie Chamberlin's Chorus, also shirtless under his black and red outfit. Is it the Devil she is making a pact with?
That turns out to be a prologue. It is interrupted by a "turn off your mobiles" announcement. Now Lesley Lightfoot is allowed to play Jacoby more like a real person. She promises publisher Olivier delivery promptly and is most concerned to know how his wife is. With good cause, for he appears to have killed her?
Scenes now alternate and overlap between real life and Jacoby's fiction. Jonson Wilkinson gives a well-grounded performance as Olivier in real life but all her male protagonists with Alessia Gotti now both his wife Karla and the women involved in her stories. They all seem to be murder mysteries, though whether the detectives who turn up are part of her real life or out of her fiction is ambiguous. One of them, Charles Timson's Detective Virgil, is blind and the other, Bernard O'Sullivan's bluff Detective Paterson, goes deaf; this isn't naturalism, though O'Sullivan makes it feel real.
There are clever ideas here but no attempt to relate to the real world of publishing or the problems of authorship, though there is a macabre humour in the way Jacoby borrows characters from real life and her demonically driven writing seems to control their actual future. Both script and production are playing theatrical games, a symbolic bucket of blood a strong image, but ultimately obfuscating, perhaps deliberately.
Faustaff is trying to say something about the way writers exploit those they know as material, about commercial pressures and sacrificing any integrity, abandoning literature for the lucrative, perhaps even about the panic the blank page can produce. It needs a more positive focus on reality to be effective; it is too vague a fable.
Reviewer: Howard Loxton