Dr Faustus
Christopher Marlowe
Caravanserai Productions
Bridewell Theatre
(2007)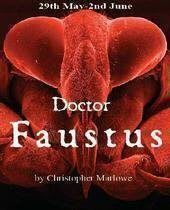 Opening night and the theatre was full; the tension was high while the audience waited anxiously for this classic to unfold.
The story of Dr Faustus, by Christopher Marlowe (1564-1593), examines the consequences of gluttony, vanity and indulgence. The protagonist yearns to acquire complete knowledge, regardless of the cost, and willingly barters his sole to the devil. The return is to be an all-knowing, all-powerful magician. Of course there are religious overtones - hell is bad and heaven is good - but even if you do not subscribe to these beliefs, you cannot ignore the moral implications of The Seven Deadly Sins, for which the only, "reward is death". These moral and religious overtones seemed a little dated, but that may also be another sign of our complacence. Sin v virtue, good v evil, right v wrong, knowledge v mysticism, etc, etc made the production a little too black and white. These archetypes were all a bit too predictable, but I guess stereotypes work for a reason. On the whole, the production might have benefited from a little bit of subtlety.
Caravanserai Productions was an ambitious attempt to incorporate over twenty actors into a wheel of carnal pleasures and charismatic characters; from Sexy Lucifer, played with a mescaline sense of cool by Rachel Allinson, to the arrogant Doctor Faustus, played with commitment by Alex Froom. The use of ritual and chorus worked well, as did the constant tension maintained by the performers throughout. The atmosphere was dark and moody with the lighting (Neil Brinkworth) reinforcing this.
There were some beautifully formed movement scenes by Movement Director Liana Nyquist and Fight Consultant Suzanne Archer. The physical performance worked well here and proved to be a powerful visual element to the production. It would have been even more memorable had this been weaved throughout the whole play. Jeff Mash, who played Benvolio, was also enjoyable to watch, while Fiona Graham, who played the Empress, gave an extremely confident performance.
Congratulations to the director: Giles Foreman's stylistic production of Doctor Faustus turns a dense and complicated text, into a piece of theatre, populated by a huge cast who are all at different stages of their careers. I feel this production will be reinventing itself each and every night and the cast will continue to push their own creative boundaries.
Reviewer: Lennie Varvarides