Dr Faustus
Christopher Marlowe
Third Party Productions
The Landor Theatre
(2008)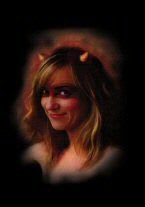 The background music playing in the theatre before the performance begins raises a few laughs when Belinda Carlisle with "Heaven on Earth" blasts out; intentional or not this introduction appropriately sets the tone of John Wright's production of this Elizabethan classic.
Fittingly for this play, the stage walls are covered with black fabric and all the props are painted black. Dry ice snakes across the floor, creating an eerie and slightly menacing atmosphere. The central props consist of a table and chair, once great, now dilapidated and well worn. A bookcase filled with books stands to the right of centre stage and there are two A-frame step ladders to the left, also painted black.
Nicholas Collett as Dr John Faustus sports a rather splendid beard and the type of untamed hair suited to an eccentric scholar. His tattered suit completes the picture of a slightly unhinged individual. Wright has pared the play down to a cast of three and has Collett deliver the prologue before launching into the play proper.
Anthony Gleave interprets the role of Mephistopheles as a middle class, smooth operator and gets quite a few laughs early on with his Guardian reading, nonchalant attitude towards the insatiable Faustus.
Shelly Atkinson plays the beautiful and seductive Lucifer. Atkinson's Lucifer is at once commanding and needy, forthright and insecure. Her fresh interpretation to this age old role is stimulating and mostly plausible.
Wright makes an unconventional interpretation of this great play, bringing Lucifer to the performance singing a song. Faustus the musical is brave and original if nothing else!
Magic is conjured through a number of devices with Gleave playing a Paul Daniels' style magician complete with fire and card tricks. This production provides an interesting modern twist on the depths of Marlowe's magic, that certainly introduces a frivolous humour but in reality doesn't actually convince it is appropriate to accompany this play.
The action is interrupted here and there with songs, accompanied with ukulele and mini Spanish guitar; the conjuring tricks interspersed with well worn clichés: "Every cloud has a silver lining; the grass is always greener" to name a few. All of these devices serve to entertain and lighten the tone but somehow lessen the overall impact of the play.
However Wright delivers a particularly effective scene when the face of the beautiful Helen of Troy is projected onto Gleave's naked, pasty stomach. The lustful Faustus passionately kisses her lips in a truly cringe-worthy moment of theatre.
Although this is excruciating to watch, Wright's interpretation shows that the beautiful Helen of Troy and the vile spirit that is masquerading as her are actually the same thing. There is no substance to this Helen of Troy, a theme prevalent throughout the play.
Sadly there are other cringe-worthy moments in the play, and unfortunately not for the right reasons. Greave tries his hand at ventriloquism with a puppet of Faustus. The "real" character takes a seat in the front row of the audience and experiences the painful realisation that he is a conceited, wretched being with no hope of redemption through this device. This concept is a good one but the camp ventriloquist act is too far removed from the content of the play and it doesn't quite deliver.
An ambitious, original and entertaining production, breathing fresh life into a classic which provides a comical evening that goes just a little bit too far with its modern excesses.
Until 20th April 2008
Reviewer: Eva Ritchie