Fawn and Other Works
Lizzie J Klotz
Lizzie J Klotz and Dance City
Dance City, Newcastle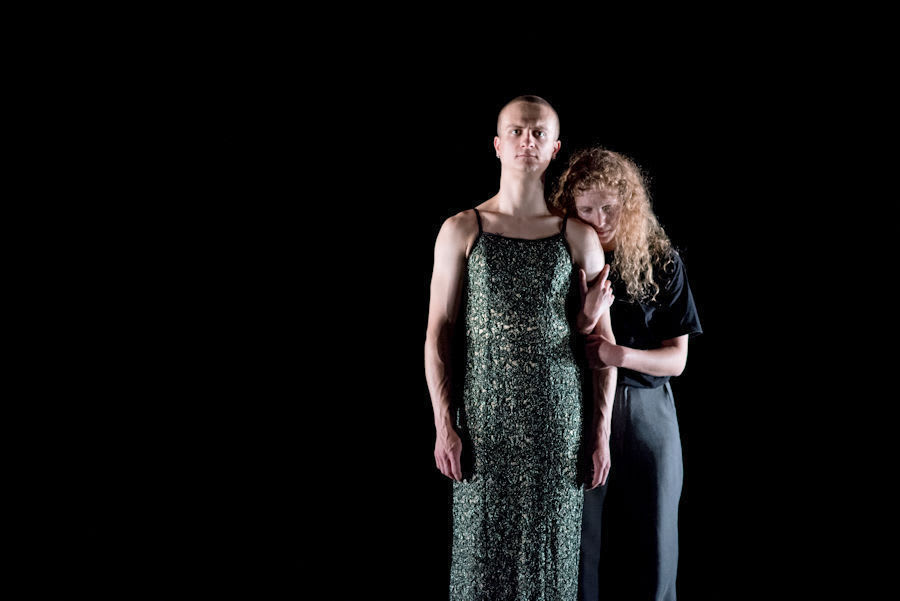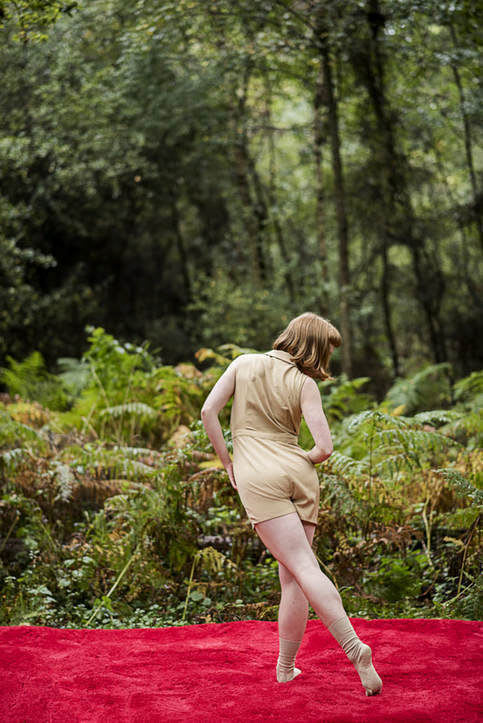 Lizzie J Klotz describes herself as a dance and theatre artist, working across art forms in collaboration, combining dance, text and song. As a dancer she has performed with a variety of companies and individuals, including Rosie Kay Dance Company, State of Grace, Coney, Alys North, Circus Central, Let's Circus, Peter Groom Dance-Theatre and Not So Silent: Dance Theatre.
This programme presents three of her choreographic pieces: To Suit, Dancing with My Dad and Fawn. They find her exploring not just her art and the world in which we live but herself too.
Commissioned by Dance City in 2015 and supported by Arts Council, To Suit explores the commonalities and similarities between animal, particularly bird, courtship rituals and those of human beings. Two dancers, Alys North and Charlie Dearnley, cover a remarkable range of interactions in a kaleidoscope of images and movements in which the animal blends into the human. At one point Dearnley struts in exactly the style of a bantam cock and at another he dresses in a woman's glamorous night-out dress, for in birds it's often the males who are the gorgeous ones and the females are dull in comparison: the brilliant peacock and the dowdy peahen, for example.
They circle in towards each other; they clutch each other; North carries Dearnley across the stage. There is sound too; at one point they emit a huge shout. They are human but recognisably bird, the two blending into each other, illuminating the convergences between the species and, perhaps, showing ourselves to ourselves.
Dancing with My Dad is a short (15-minute) film, created in collaboration with filmmaker Alex Ayre. It's about two people getting to know each other in a completely different way as the daughter teaches the father contemporary dance. David Klotz tells us in the film that it is an insight—even an entrance—into that part of his daughter's world he doesn't (or didn't) really understand, her dancing. For her it's a reversal of the usual way of things (dad may teach son football but daughter teaching dad dance is, to say the least, unusual) and an exploration a new kind of relationship with her father. For both it's learning more about each other.
It's not a continuous narrative but a series of scenes, almost vignettes, as different movements, different engagements, are explored. What comes over very clearly is the trust and love between them and their joy in sharing the experience.
The final work is Fawn, a solo performed by Klotz. Forget Debussey's L'après-midi d'un faune (although the title does tempt us to try to relate the two as it was made into a ballet); this is not a piece of eroticism but another exploration, this time of our seemingly incessant need to please—or appease—others.
Fawn begins with Klotz reading from a stack of papers in her hand; each is numbered and contains a definition of the word "fawn". After each is read, it is discarded, thrown on the stage floor. There seems to be an almost endless list of meanings; there's the animal, of course, and many variations on the pleasing, flattering, grovelling theme, as well as a pretty young girl.
This is the first indication that this is no ordinary dance piece but something more experimental, attempting something quite complex.
The fact that, in creating the piece, Klotz worked with dramaturg Rosa Postlethwaite and composer Roma Yagnik and the fact that her choice of music—The Carpenters' "Close to You", "One" from A Chorus Line and Tina Turner's "Private Dancer"—was clearly based on the relevance of the words to her theme together give an idea of the experimentation she is doing in the piece.
And it's not just the list at the beginning but the red "magic carpet" on the front of the stage (and its removal), the use of a microphone (indeed, of a series of microphones), all integrating with the more conventional contemporary dance, which shows her exploring different approaches. Her costume—shorts and top, fawn in colour—reminds us of the animal and thus of the Debussey, adding extra layers of meaning.
It's a fascinating piece, complex and thought-provoking, and was greeted, as were the two other items in the programme, with huge enthusiasm from the audience. Klotz is based at Dance City and quite obviously has an enthusiastic fan base there!
Reviewer: Peter Lathan