Fear and Loathing in Las Vegas
Hunter S Thompson
Lou Stein Associates and Pleasance
Pleasance Courtyard
–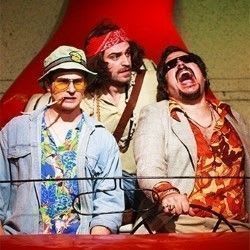 It's been almost a decade since the good doctor of Gonzo Journalism, the unstoppable force of nature that was Hunter S Thompson, took his own life. As such, it's quite fitting that works based upon him had something of a resurgence at this year's Edinburgh Fringe Festival.
The story of sports journalist Raoul Duke and his charming but terrifying samoan lawyer Dr Gonzo setting out in a drug-fuelled haze to cover the Mint 400 off-road desert race is a classic piece of abstracted, fragmentary narrative, and it's a testament to its universal appeal that both the novel and Lou Stein's stage adaptation of it holds up perfectly in the 21st century.
The play is staged around a central revolving set piece that transforms from the infamous 1971 Red Shark Chevrolet Impala to a giant bed, a hotel reception and a revolving bar, while the backdrop consists of large cutouts that mimic the crags and towers of the monolithic peaks of the Mojave desert. Images and animations of Ralph Steadman's grotesque caricatures are projected upon them at relevant moments in the performance, giving a tease toward the terrifying acid trip hallucinations that the writer is experiencing.
Of course, a play is only ever as good as those who tread the boards of the stage, and the cast of Fear and Loathing in Las Vegas do a remarkable job of turning around the crazy, debauched story into a cohesive form and add real character and depth to the roles.
Tom Moores is suitably paranoid and put-upon as the beleaguered journalist leading us through this minefield of strange vibrations and odd events acting as the perfect foil to the ever reliable Rob Crouch, who dominates the stage as the unpredictable and savagely clever Dr Gonzo, snarling and screeching and quite literally bearing his all in hysterical form.
The support by Sammy Kissin and Ben Hood should not be overlooked as well, as they perform myriad roles and change in and out of costumes and personalities in a beat of a backstage step.
A special mention should be given to John Chancer playing the elder Hunter, spending most of the action in a cluttered corner of stage behind a typewriter. It's a nuanced and amazingly dry channeling of the man himself, capturing the essence of Hunter's depth and booming wisdom, pouring from him in gouts, like lava from an erupting literary volcano.
It's a classic performance, crafted and created with mastery, talent and heart. and as such should be on anyone's list to see this Fringe.
Reviewer: Graeme Strachan