Fedora
Umberto Giordano, libretto by Arturo Colautti
Met Opera on Demand
Metropolitan Opera House, New York
From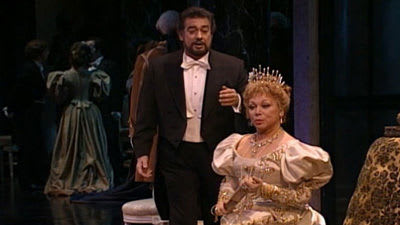 Umberto Giordano, following his success with Andrea Chenier, came up with another money-maker, Fedora, which premièred in Milan in 1893.
The opera is based on a play written by France's most prolific playwright and performed by her greatest actress in Paris in 1882. The male hat Sarah Bernhardt wore in the play became fashionable for women and the women's rights movement adopted it as a symbol. The hat became known as a fedora.
Plays about nihilists, revolutions and assassinations of royalty and politicians were all the rage in the 1880s. Oscar Wilde jumped on the bandwagon in 1883 with his first play Vera or The Nihilists and had a big failure in New York.
Giordano's opera is rarely revived these days. Beppe De Tomasi's production, conducted by Robert Abbado and lavishly set by Ferrruccio Villagrossi and costumed by Pier Luciano Cavallotti, was a co-production with Barcelona.
The performance in 1997 was a special occasion, celebrating the hugely popular Mirella Freni's long-time association with The Metropolitan Opera House, New York. It seemed as if the applause on her entrance would never stop.
In the interval, Rudolfo Giulianni, the Mayor of New York, presented her on stage with the key to the city. There were more ovations, more flowers, more confetti and a huge "We Love You" banner in the dress circle.
Fedora Romanzov, a Russian princess, determines to track down the murderer of her fiancé and, when she finds him, she falls in love with him and then, a big mistake, reports him to the police. She instantly regrets this when she learns he killed her fiancé, not for political reasons, but because he was having an affair with his wife.
She also learns, because of her alert to the police, that she is indirectly responsible for the deaths of his younger brother and mother. There is only one thing left for her to do when he is informed that it is she who is the one who has betrayed him. Fortunately, she keeps poison in the Byzantine cross hanging from her neck for such operatic emergencies.
Mirella Freni, in truth, was too old for the role in 1997. Plácido Domingo as Count Loris, the murderer she now loves, dominates the production. He is the better actor and, in this instance, the better singer; and he also has the best aria in the opera when he declares his love for her.
There are a number of ways of tapping into this opera and others at will. The Met Opera on Demand service offers annual ($149.99) and monthly ($14.99) subscriptions as well as a one-off payment ($3.99) for those who have limited time or only want to watch the occasional opera.
Reviewer: Robert Tanitch