Feed
Theatre Témoin
Theatre Témion with The Lowry and Everyman Cheltenham
Pleasance Dome
–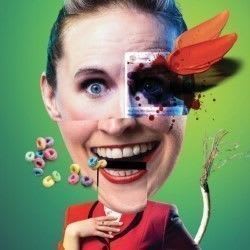 The world of the Internet and its influence on society is the unlikely subject of Theatre Témoin's new play Feed. It explores the world of search engine optimisation and how YouTube videos go viral and the resulting control of content through the dreaded algorithms.
It is cleverly staged in Theatre Témion's inventive style with imaginative use of two banks of moveable rostra that become the various locations with magical opening cupboards that produces a few surprises.
It's a witty script that lets loose some powerful punches along the way. Be prepared for the unexpected.
Clem and her lesbian girlfriend Kate are celebrating an anniversary. She has written an explosive article on the Palestine conflict where a four-year-old boy has been shot in Gaza. She has used a photograph that Clem had taken several years ago of another child without her permission, which causes chaos and anger between them and indeed her editor.
The story goes viral thanks to the efforts of Mia, a young girl who has a make-up vlog but includes this story in her report. A zealous SEO manager sees the potential of this opportunity and assists her to ensure that this story goes global. But he needs more and more content to keep the story alive.
There are sharp insights as to how adverts appear on our screen when we are looking at the Internet with the cast appearing in lit boxes where the audience are bombarded with marketing promotions.
We learn that machines can test what is important and can create content with no moral or ethical conviction so they are taking over what we can think, including fake news.
This intriguing production becomes more bizarre and surreal as their world is taken over by the Internet with some dire consequences. Perhaps a lesson for us all.
Reviewer: Robin Strapp