Feed
Tom Elliott
Coliseum Theatre, Oldham
(2006)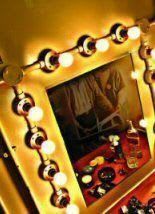 The latest offering from Oldham Coliseum is what TV schedulers would label a 'comedy drama'. Harry Burgess is an old man in a nursing home getting one-to-one care from reluctant nurse Stephanie, but his past as variety comic Harry Troop keeps coming back to haunt him, as do the ghosts of those he performed with and abandoned just so the show could go on. His past, including songs and comedy routines from his time on the stage, is brought to us through flashbacks and through apparitions in Harry's mind, as well as through the dialogue.
Writer Tom Elliott has written storylines and scripts for TV soaps such as Coronation Street, The Ward and Emmerdale for most of his professional writing career. Despite nearly two decades working in such a demanding writing environment, his stage play is not very well written. The story of someone who abandoned friends and family for a life on stage (or on screen, or in the police ) has been done many times before but can still be retold with an original approach. Feed brings nothing fresh to the story, and, while there are moments that are touching or funny (the scene that works best as a comedy routine is when Troop tries to convert his live act to the requirements of radio), the play gives the sort of mix of music, comedy and nostalgia that is found in Sunday evening TV drama but without a particularly interesting story or dialogue.
Most of the play is effectively a two-hander between Troop and Stephanie. Nick Lumley is excellent in the large and demanding role of Troop, at once cantankerous and likeable and noticeably different in the current and flashback scenes without playing either over-the-top. While he doesn't quite manage to communicate with the audience like a stand-up - something few actors can manage successfully - he doesn't do a bad job and is working with quite poor material with some excruciatingly bad jokes. Julie Riley as Stephanie (she replaced Sue Devaney two weeks before opening) gives a more uneven performance which has some good moments, some where she plays over the top for laughs and at times struggles to remember her lines. This will no doubt improve as she settles into the part. The cast is completed by Rachel Laurence who is excellent as Harry's daughter and also, in the flashbacks, as his wife and the BBC radio woman.
The setting from designer Dawn Allsopp is a conservatory-type room in the Havencrest Nursing Home, which works well and has an interesting added effect, giving the ghosts from the past an eerie soft focus appearance when lit brightly on the other side of the Perspex windows.
Although this play ticks all the right boxes as an ideal play for the Coliseum according to a recent audience survey, which found that the most popular elements are songs, comedy and drama, there are many better plays around that include these same elements but which are better written and more entertaining.
"Feed" runs until 25th February
Reviewer: David Chadderton