Feelgood
Alistair Beaton
Nottingham Playhouse
(2004)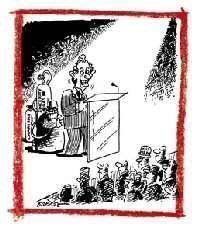 Choosing when to stage a play can affect how many people are in the audience. That must have been uppermost in the mind of Nottingham Playhouse's artistic director Giles Croft when was looking for a contemporary comedy to give a lighter touch to this season.
Someone mentioned to him the political satire Feelgood and that immediately got his vote. But would staging it in May be at the right time politically? It would come just after the major parties' spring conferences - but just before the local and European elections.
Then Alistair Campbell resigned. The theatre was worried that the play might seem dated as its central character Eddie appears to be modelled on Tony Blair's former spin doctor. But as the playwright pointed out, Feelgood is now playing regularly in countries where few people know who Campbell is.
Alistair Beaton is one of the leading exponents of the genre. He wrote for the barrier-removing television series Not The Nine O'Clock News and Spitting Image and his most recent work Follow My Leader, which poses awkward questions about Britain's role in the war on terror, is currently playing in Hampstead.
Feelgood won the Evening Standard award for best comedy three years ago and was nominated for an Olivier. Beaton's even updated it to include a few topical references. The programme for the Nottingham production warns you that politics has never been so funny. It has a lot to live up to. For the most part it succeeds.
Feelgood is set on the eve of the Prime Minister's speech to his party's annual conference. He needs to come up with the finest speech he's ever given if he's to save his career. His spin doctors and scriptwriters are working flat out on the PM's speech when Eddie discovers that his ex-wife who's a journalist has uncovered a scandal which would make the party unelectable for 150 years. The play traces how far Eddie goes to keep his boss in power.
The first quarter of the play tends to drag somewhat as the characters are introduced and their relationships explored. Suddenly, though, Feelgood takes off faster than Peter Snow's swingometer. From then on there's a full quota of humour, irony and showmanship before an hilarious yet biting finale.
Alex Giannini is superb as the scheming Eddie. He gives the impression he's always in control of what's going on around him. Yet he's ruthlessly manipulative as he goes to any length to ensure he retains his hold over the PM.
Eddie believes he also has influence over journalists and feeds them with stories when it suits him. He even rings the editor of the Six O'Clock News to try to manipulate the news agenda and prevent a story being broadcast. Giannini is perfect for the part: super-smooth, slimy or sycophantic when the occasion demands it.
Granville Saxton is excellently cast too as George, the bumbling, sheepish Cabinet Minister whose greed and naivety threaten to bring the Government to its knees.
There's also a neat performance from Jamie Chapman as the geeky, cringe-inducing comedy scriptwriter who's called in to add a few gags to spice up the PM's speech.
Director Richard Baron puts on a slick show and Edward Lipscomb's set is delightful, changing quickly from the hotel suite where the speech is being written to journalist Liz's room to the conference hall at the end.
We have to wait right until the closing moments before we get to see Hywel Morgan as the Prime Minister, known affectionately as DL (Divine Light!). He's an absolute dead ringer for Tony Blair, his voice and mannerisms leaving you in no doubt as to whom he is lampooning. He even nips off the stage to pick up his guitar and strums along with the hip conference theme tune. Morgan's cameo is hilarious and is worth the ticket price on its own.
The PM appears to throw away his speech and be spontaneous - yet he trots out all the key phrases the scriptwriters sweated over in the first half! You'll never look on politicians in the same light again.
Feelgood lives up to its name and would be just as funny no matter when it's produced. All it needs now is for East Midlands' theatregoers to vote with their feet and go to see it.
"Feelgood" runs until May 22nd
Reviewer: Steve Orme