Fempire: Mess
Kirsten Vangsness
Theatre of Note
Assembly Rooms
–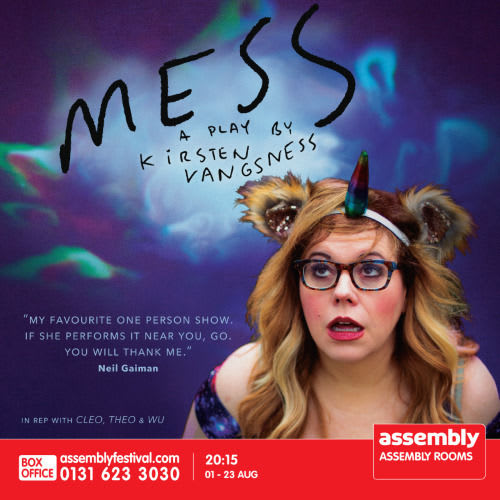 Kristen Vangsness of television Criminal Minds fame has developed two projects playing on scatter dates. Here in Mess, 50-year-old Kristen is trying to explain to us her interpretation of the world from the inside out. "I am three", "I am four", "I am fourteen", "I am 50". Her focus and reaction to life broadens and is more refined with age. But she wants to convince us that she has always looked inside for definition.
She talks about quantum physics and logical, ontological and Brechtian. She's just trying to find the words and ideas that will connect.
This is a stream of consciousness not always easy to follow or understand. The audience just needs to hold tight and follow. It doesn't stop at any point for us to catch up. And if you can let go, let her have you, it's an interesting, informative and fun ride.
Vangsness is infinitely easy to watch. She's in her element and comfortable interacting. She has the confidence of a seasoned performer and, because it is her own writing, never falters. It is a mess but it is her mess and she want to share and explain. Go see.
Reviewer: Catherine Lamm