Fiddler on the Roof
Book by Joseph Stein, music by Jerry Bock, lyrics by Sheldon Harnick
Sunderland Empire, and touring
(2008)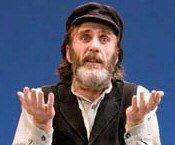 Fiddle di dee I really wasn't expecting to enjoy this half as much as I did.
The prospect, first of all, of sitting through a lengthy production, this one two hours and fifty minutes long, including the interval. And then, of course, there's the setting Tsarist Russia in 1905, and a nation on the brink of upheaval.
Not having seen a version of this tale in full, I was expecting ladlefuls of doom and gloom.
But I have to say from the outset, I loved it. This was a moving and haunting rendition, told from the heart, but with plenty of humour, too. For all the sorry situation the Jewish villagers in pre-revolutionary Russia found themselves in, this was a production infused also with a joie de vivre. It was absolutely compelling. I found myself laughing, sympathising, even crying - and who wouldn't at the moving scene at the end of the play when the Jews were forced to flee their shtetl for a life who knows where.
Many will be familiar with the tale, at the centre of which is poor Jewish peasant dairyman Tevye, father of five daughters, doing his best to preserve tradition in the face of a changing world. Like the other fathers in the village he has raised his children to uphold the age-old Jewish customs of his ancestors. The time has come to find husbands for his older daughters and, as tradition dictates, suitable matches must be made.
But Tevye is soon to find the young are guided by their hearts and not their elders. When his older daughters refuse the matchmaker's advice and marry for love, Tevye must choose between their happiness and those beloved traditions.
Joe McGann, probably best known for his role as Charlie Burrows in ITV sitcom The Upper Hand, plays milkman Tevye brilliantly. He does so in a very understated way, which works well in this context. He's a philosophical, witty, caring Tevye, living through times of change and terror.
And the challenging of age-old customs and the clash of wills between parents and children is a story as old as time.
His confidential asides to God, directed somewhere in the theatre's upper circle, were comical at times, with some great one-liners: "I know we are the chosen people, but once in a while, can't you choose someone else?"
Carrie Ellis as his wife Golde is spirited, funny and sparky, as are the daughters who also display great vulnerability.
The glue that holds all of Fiddler together is, of course, the gloriously rousing score, full of memorable melodies. Who can forget the musical's most famous tune, If I Were a Rich Man ? And I defy you not to go home humming that particular one, which many will feel strikes a chord in the current climate.
Other songs including Tradition and Sunrise, Sunset and To Life! were sung beautifully and the dancing, too, was a real joy.
The sets were pared down, simple and very fitting, as were the costumes, all smocks, and long skirts and jackets in greys, browns and blacks.
The candle-lit Sabbath prayer scene was particularly poignant and the ghostly dream scene in Tevye's bedroom a dramatic affair.
It was completely absorbing from start to finish, a big story well told.
Sheila Connor reviewed this production in Woking
Reviewer: Katharine Capocci