Fidel!
Book by Denise Baden, songs by Maria Haik Escudero, Ed Clarke, Zach Yarrow, Josh Robey, Ewan Whannell, Kazzey, Lauren Barker, Bethany Fermor, Amanda Ward, Harry Baden, Jack Baden and Alfie Aukett
Iris Theatre
St Paul's Church Covent Garden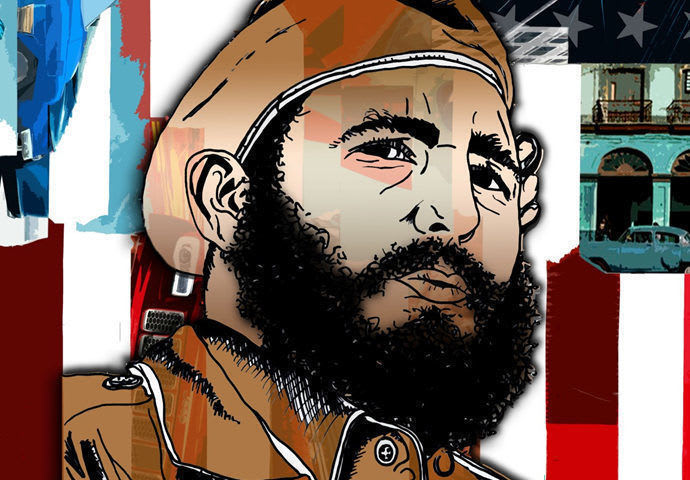 A musical about Fidel Castro and the Cuban revolution told from a Cuban perspective might not sound bound for Broadway but then neither perhaps would the subjects of Evita and Les Misérables. Rousing songs of revolutionary fervour can be exciting and whip up enthusiasm that can carry an audience with them. That is a very positive element of Fidel!.
Though presented here in an acted-out concert performance as a 90-minute standalone show, this is actually the first half of a planned three-hour-plus musical that takes Fidel's story from 1952 right through revolution, the confrontation with the US and the missile crisis to the end of the Soviet Union and its support of Cuba.
It's an ambitious script of cinematic proportions that calls for crowds and choreography and action scenes that all had to be imagined from stage directions. A full-scale production will make challenging demands, but a cast of nine meanwhile deliver passionate performances. They are led by Guido Garcia Lueches as Fidel, Niccolò Curradi as US supported dictator Batista, Pablo Raya as Che Guevara and Gabriela Garcia as revolutionary comrade Celia Sánchez.
This first presentation concentrates on the revolutionary struggle up to the ousting of Baptista; it is thin on personal story. There is a harrowing song for a torture scene (though the guards' lyric "Speak, you will speak," sounds unnatural; "Talk" would be better) and "La Paloma," a song about Celia makes a welcome change of style as does "Climb to the Top of the Mountain", a brooding song from Castro.
With a cast in which actors from Uruguay, Spain, France, Mexico and Italy join those from the UK, this is a very international company and sometimes accents and the venue's difficult acoustic make it difficult to catch what is sung, especially in ensemble numbers. It is easy to miss detail and the missing action sequences may provide more information but this feels like a story being told in headlines without nuance, the book still needs more attention.
The performers' commitment is very evident and their enthusiasm reflects the way this production has come about. In a way that reflects the spirit of Cuba, it is a collaborative enterprise. Denise Baden, an Associate Professor at the University of Southampton, went to Cuba to conduct academic research related to her interest in sustainable and ethical business and interviewed people about Fidel's leadership. Shocked by the way the media reacted to Castro's death, she felt the need to tell things as Cubans see them and began to develop this musical.
While Dr Baden is responsible for the book, a call went out to UK schools to write songs for it. More than 800 schools and colleges signed up to take part and an X-Factor-style event was mounted to get the public involved in choosing which songs to include. With initial support from Dr Baden's university and then crowdfunding, an abridged performance was put on by Mayflower Musical Youth Theatre and then these performances mounted as part of Iris Theatre's Workin Process programme.
Songs can still be submitted for the second half of the show and full background can be found on the Fidel the Musical web site.
Reviewer: Howard Loxton