Fidelio
Ludwig van Beethoven, libretto by Joseph von Sonnleithner
Met on Demand
Metropolitan Opera House, New York
From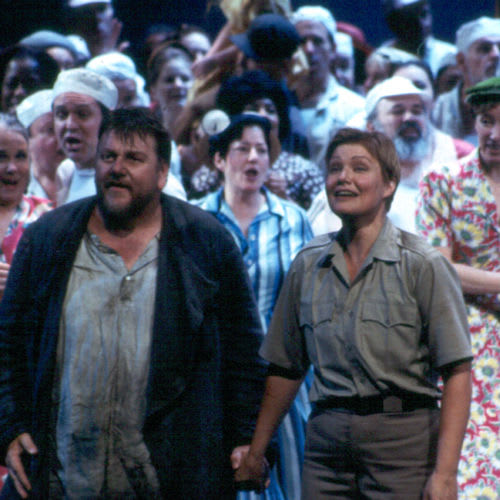 Beethoven spent a long time (1804 to 1816) trying to get his one and only opera right. Fidelio is a plea for humanity and justice and tells a story of revenge and murder and also of love and courage. I have yet to see a production which I have totally enjoyed.
Jűrgen Flimm's production for the Metropolitan Opera House, New York in 2000, conducted by James Levine, takes the action out of the 18th century and sets it in an unnamed, vaguely modern totalitarian state.
Leonora disguises herself as a man in order to gain access to the prison where her husband, Florestan, is imprisoned and in danger of starvation and being murdered. She calls herself Fidelio and the chief jailor and his daughter, Marcellina, are completely taken in by the disguise. Marcellina even falls in love with Fidelio.
Karita Mattila has her finest moment when Leonora prays to God to help her in her rescue bid, which is one of the opera's high spots. It is she, in her humanity, who releases the prisoners out of their cells so that they can enjoy a brief breath of fresh air. The long pause before the prisoners actually begin to sing, the camera concentrating on their faces, is particularly moving.
Florestan does not appear until act 2, and then only dimly in the darkest of dark dungeons. Ben Heppner is vocally impressive in his suffering; but physically he doesn't look like he is starving. The despair is so deeply felt that it feels as if it is Beethoven who is expressing his own despair. By 1816, he would be totally deaf.
Falk Struckmann is Pizarro, the Governor of the prison, bent on revenge and murder, a force to be reckoned with. René Pape is the ineffectual head jailer who baulks at murder but is willing to dig the grave.
The final scene has the brightly costumed chorus singing a hymn to liberty and praising Leonora for her bravery. The transition from oppression and darkness to light and freedom is so abrupt, the joy feels tacked on and totally artificial. The chorus is merely lined up, concert-fashion. And what about poor humiliated Marcellina? Does anybody care what happens to her? Will she ever get over the terrible shock?
There are a number of ways of tapping into this opera and others at will. The Met Opera on Demand service offers annual ($149.99) and monthly ($14.99) subscriptions as well as a one-off payment ($3.99) for those who have limited time or only want to watch the occasional opera.
Reviewer: Robert Tanitch