Fidelio
Ludwig von Beethoven, libretto edited by Georg Friedrich Treitschke
Opéra Comique
Opéra Comique, Paris
–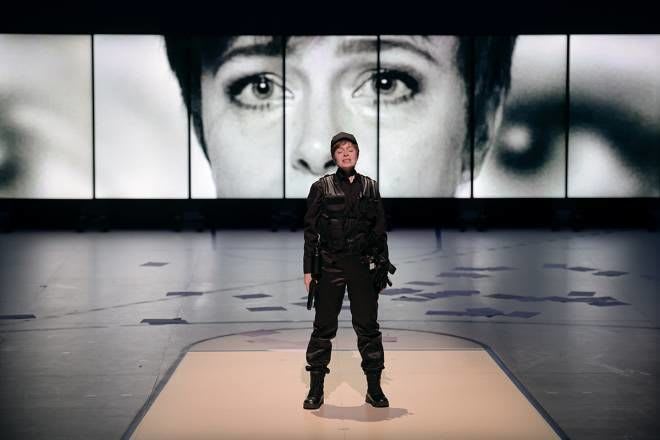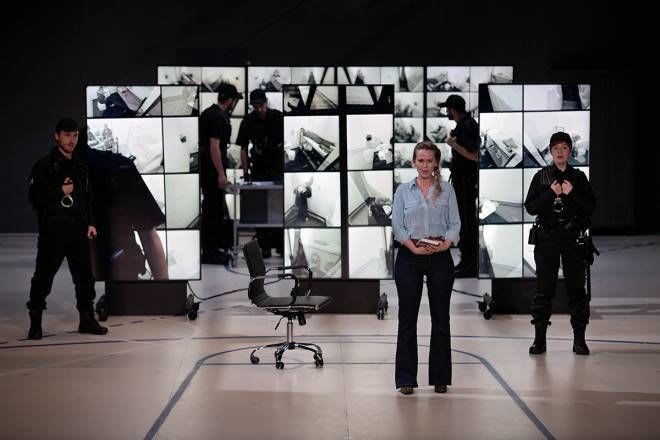 Beethoven's only opera, written over a long period from 1804 and 1816, is inspired by a true story from the Reign of Terror in the French Revolution. The music and the singing in the Opéra Comique's production, directed by Cyril Teste and conducted by Raphaël Pichon, are so impressive and so enjoyable, I am surprised Fidelio is so rarely played in Paris.
Two things are established during the overture, visually. Firstly, that we are in a modern prison and that a man is being beaten up by brutal prison guards. Secondly, that a woman is disguising herself as a man.
The stage is dominated by CCTV cameras and seven moveable large and tall screens. A video camera operator is very visible and active on stage, useful for close-ups in dramatic moments. There is a lot going on. Sometimes, it is too much and distracting.
The woman is Leonore (Siobhan Stagg). She calls herself Fidelio and her gamine disguise is so successful she fools not only the head gaoler (Albert Dohmen) but also the head gaoler's daughter (Mari Eriksmoen) who falls in love with her.
She becomes a prison guard in order to gain access to the prison and help her husband Florestan (Michael Spyres) to escape. He is about to be murdered by the villainous governor Pizarro (Gabor Bretz). Leonore is a brave woman who, in a powerful aria, powerfully delivered by Siobhan Stagg, states she draws her strength from fidelity, love and marriage.
Florestan, two years in solitary confinement, has a delayed entrance until the beginning of the second act when he, too, delivers a magnificent aria, "Dear God, what utter darkness". Beethoven identifies with Florestan. The despair is deeply felt and Michael Spyres, who sings in silhouette in front of the brightly lit panels, has a voice which reaches to the heart.
The prisoners being released from their cells is normally one of the opera's high spots. Here they make no impact whatsoever. Much, much better is the finale, a grand thanksgiving, which is positive, potent and moving.
Opéra Comique's production of Fidelio, which premièred in Paris in September 2021, is a co-production with the Nice Opera house, the Collectif MxM, and the Dijon Opera house. It can be watched for free on the Arte channel.
Reviewer: Robert Tanitch