Fidelio
Ludwig van Beethoven, libretto by Joseph Sonnleithner, revised by Stephan von Breuning and Georg Friedrich Treitschke
The Royal Opera
Royal Opera House, Covent Garden
–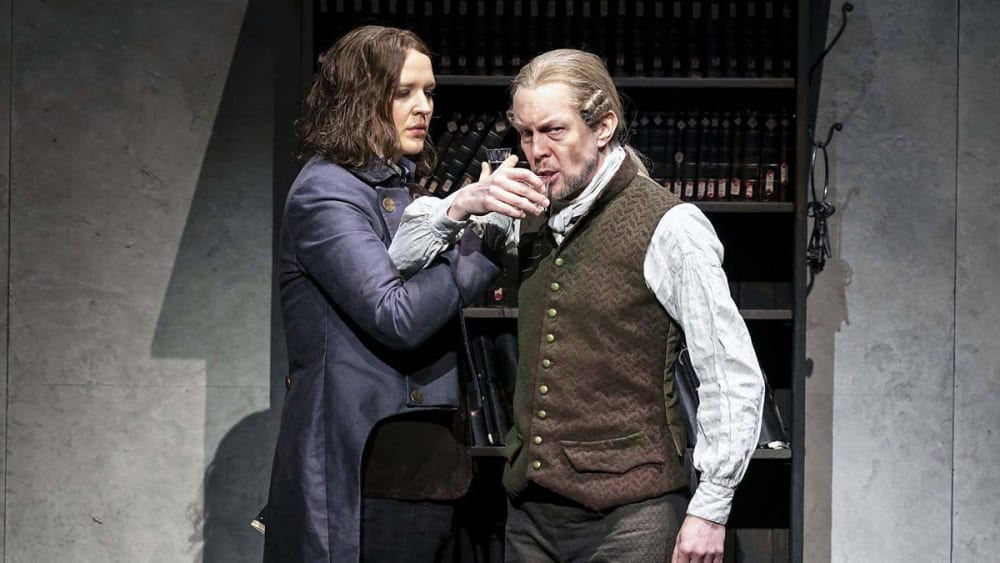 The French Revolution. Liberté. Égalité. Fraternité. A bucketful of guillotined heads. A woman masquerades as a man in order to rescue her husband from prison. Her name is Leonore. She calls herself Fidelio and gets herself a job as a gaoler's assistant.
Am I alone in expecting a Sidney Carton / Scarlet Pimpernal melodrama? Instead we are fobbed off with domestic trivia: the gaoler's silly daughter falls in love with Fidelio, not realising he's a girl.
Beethoven spent a long time (1804 to 1816) trying to get Fidelio right. I have yet to see a production of Fidelio which worked.
The opera can be seen on BBC Four in the Royal Opera House's 2020 production, directed by Tobias Kratzer and conducted by Antonio Pappano. The opera doesn't come alive until the famed quartet.
The quartet is sung by Lise Davidsen, George Zeppenfeld, Amanda Forythe and Robin Titschler in their roles of Fidelio, gaoler Rocco, gaoler's daughter and daughter's real boyfriend. It's one of opera's high spots.
Fidelio has a fine mission statement about God which is finely sung by Davidsen and the chorus (playing prisoners released from their cells) has an affecting prayer, which is beautifully subdued.
The only trouble is Kratzer doesn't know what to do with the prisoners and has them just standing around. There is no excitement.
Simon Neil, cast as Pizarro, the baddie, is given a totally unnecessary star entrance on a black horse. Pizarro comes across as a caricature of the sort of Nazi you would find in a British World War II propaganda film thriller.
The second act should take place in an 18th century deep, dark and dank dungeon; instead it takes place in a large, modern and very airy art gallery. Florestan, chained to a rock, a tormented figure, is an art installation. He could be Prometheus without the eagle.
David Butt Philip is surrounded by the public (played by the chorus) who sit on chairs observing his every move. Their comic faces are seen in close-up in huge video projections. One woman is eating crisps out of a paper bag.
The second act becomes ridiculous when Fidelio and Rocco enter the gallery. Actions, within an exhibition context, become more and more absurd, reaching a climax when Fidelio stops a murder by throwing off all his clothes to prove he is a girl. The sound of the trumpet makes no impact, being barely audible, and the arrival of The Minister and his role in the proceedings lack clarity.
Beethoven didn't write another opera. You would be surprised if he had after seeing what Kratzer has done to Fidelio.
Reviewer: Robert Tanitch