Fight Face
Sophie Woolley
Lyric Hammersmith Studio
(2008)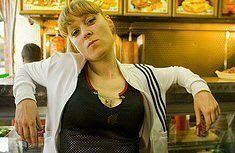 Ramps, rostra and steps and multiple projections on a plywood wall that include text and video animations provide a lively setting for this two hander in which Sophie Woolley and David Rubin play all the characters, human and other species, except a crying baby whom we see in his pram and projected on jagged cut-out clouds above us. As the audience take their places she struts around like an amateur rock star or does a feline stretches while he wanders around, occasionally chatting or both making grimaces and taking up confrontational poses, as they set up a pattern for the audience to interpret.
Centre stage is a counter with a doner kebab skewer set up on it: the kebab shop in which Turkish immigrant Jenghiz works and on which the action centres. We meet a succession of his customers: an aggressive streetwise girl who steals a drunk's wallet, the wanna-be pop-singer drunk, besotted with a girl in the local strip club, an ultra-posh video-artist (also drunk) and Helen, an unmarried mother who fell for a married ambulance man who took her to hospital after she'd been run over and now has his baby. Then there are a pair of builders watching what is going on, a Met PCW and her PC partner who fancies her, a Polish couple, now separated - the woman shouting in the street that she wants their cat (she already has their dog), another crude and sexually aggressive elderly drunk and a man with a Bull Terrier.
Their stories criss-cross for the hour and a half it runs, the characters folding to the floor or bouncing below the counter as one character and resurrecting as another as spinning around to turn from person into cat or dog. At the centre is Helen, barely coping with life, who used to fancy Jenghiz and got fat on the fast food she bought as an excuse to see him, he fell inlove with her but never knew her interest, now he wants a second chance. They are the most fully realised characters, the others get more cartoon-like treatment: they and their violence could be intolerable otherwise and kill the laughs, for, while pointing up the ghastliness of what is out there, this is intended to be funny and succeeds on both levels.
Design, lighting, projections and animation all come together and a complete projected text to help the deaf is also a boon to understanding some of the strangled English and confirming which character is speaking, though that is rarely necessary. David Rubin makes his characters entirely believable, helped perhaps by the fact that they are not aggressive compared with most of the females who are more broadly caricatured by Sophie Woolley. Most of the characters need to wash their mouths out and there is lashings of violence ending in arson and murder, but there is no need to feel squeamish as it is highly stylised. The fight at at the end needed a little more work but the complex technology of the show ran smoothly and the performers deserved the enthusiastic reception they got from the first night audience.
Until 4th October 2008
Reviewer: Howard Loxton