Finding Joy
Rachael Savage
Vamos Theatre
Theatre Royal, Bury St Edmunds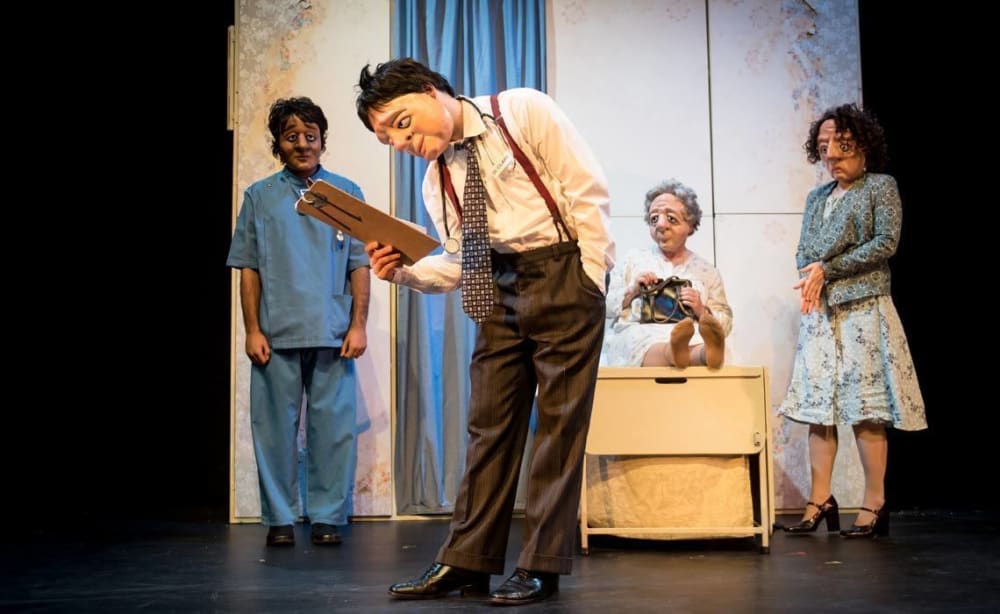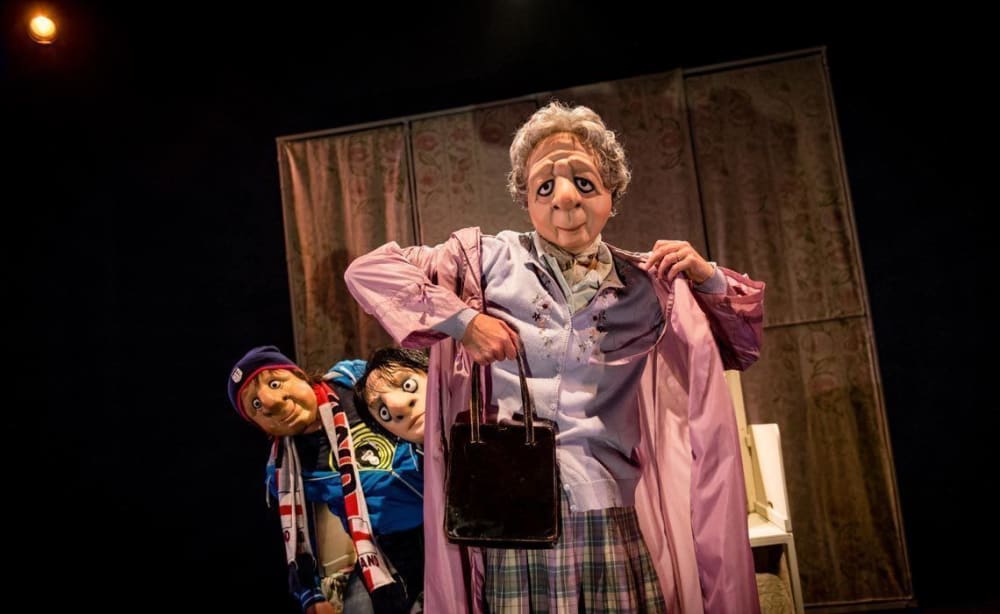 I first saw Vamos at The New Wolsey Theatre a few months ago with A Brave Face—a thoughtful production about young soldiers and PTSD. Vamos is unusual in that it tells its story through the use of physical theatre and full face masks, something Trestle Theatre first developed commercially way back in the '80s but which Vamos has revived to amazing effect.
This delightful addition to its repertoire looks at the subject of dementia, but not in a maudlin or depressive way. Based on actual people known to director Rachael Savage, this looks at how looking after someone with dementia in the family home can be a positive experience for all concerned. Obviously this is not always possible and dementia comes in many forms, some of them ugly and violent. But this production does allow a different view and, without mocking or making fun in a cruel way, brings out the humour and the positive emotions from something that is, in its basic state, devastating to everyone involved.
On a very simple yet versatile set, four actors bring to life a whole range of characters from the patronising hospital consultant to the grandson's teenage mate and also goes back in time to Joy's childhood and her experiences as a war child evacuee and meeting her first love.
The whole production is performed in full-face masks with no script but with an incredible amount of expression achieved from movement and physical interaction. Bidi Iredale plays octogenarian Joy with incredible accuracy and attention to detail in the way she walks and sits and moves. James Greaves is amazingly expressive as grandson Danny—he worked with Trestle in the late 1980s and his experience shows, as well as proving that age and gender is easily obliterated by costume and masks.
Louise Mellor and Sarah Nelson play a host of other characters and between them they tell the story of Joy's dementia, her daughter's frustration at trying to manage the ensuing chaos and finally the connection her grandson manages to effortlessly achieve as he becomes her main carer through interactive play, understanding and bonding, but being respectful and loving at the same time, allowing Joy to stay at home in familiar surroundings and to be in whichever world she want to be. Although a typical teenager, he discovers abilities as a carer and a connection to his grandmother that crosses the age boundaries and improves life for both of them.
With well-chosen music and plenty of pace, this is a superb production that is a complete pleasure to experience, full of pathos and humour in equal measure but giving out a positive message about the difference genuine love and care can make to all the generations.
Vamos is on an extensive tour until 29 November and I would urge you to catch them if you can.
Reviewer: Suzanne Hawkes