Fire in the Ballroom
Choreography by Peta Roby and Jason Gilkison
Burn the Floor
Peacock Theatre
–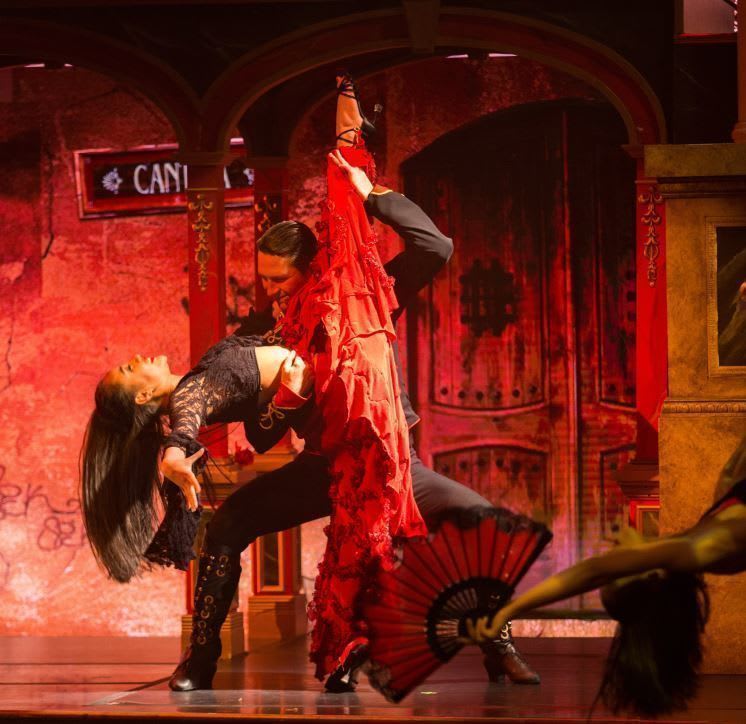 Burn the Floor mounted its first show in 1999 but didn't reach Britain until 2010 with its then-current version followed by a new show in 2013. Now it is back with the UK première of Fire in the Ballroom, another fast-paced fest for dance aficionados who are followers of Strictly and contemporary ballroom.
It starts off disastrously with some awful camp clowning by white-wigged, red-liveried gentlemen being silly in in the stalls who raise the curtain on a nineteenth-century Blue Danube waltz that looks like a routine panto Cinderella ball.
The heart sinks, but perhaps it's intentional for into this conventional picture burst exotic Aztec-like dancers, heads crested with feathers, coming from auditorium and backstage; they epitomise the vigour with which this show's choreography refigures ballroom. In place of crinolines and formality, there is now tanned flesh and leather, chains and rivet-studded codpieces.
With Bossa Novas and Sambas and wild jiving infused Robbins- and Fosse-style elements of show dance and ballet, acrobatic backflips and cartwheels, this is a sequence of dramatic dances that each build to applause-sparking climax. The team of fourteen fantastic dancers seem to fill the stage and no sooner are any of them off than they seem to re-enter in a quick change of colourful costume.
When the drapes and chandeliers of the opening have flown away, the first numbers each reveal a little more of the setting. A spiral stair leads up to a balcony over a colonnade on one side, that upper level providing another dance space; on the other a rostrum is a place for the band.
The band is guitarists Marc Aliana and Miki Santamaria with percussionist Pat Madden. It seems unbelievable that just three could make such a great sound, driving the dancing, with Jessica Lingotti and Mikee Introda as vocalists.
The singers often get involved in the action with Mikee a waiter comically caught up as the scene becomes a town square with a café. Sometimes forced up into falsetto, not every song fits his voice but he can hit the high spots and has the audience in his hand when singing French chanson.
These long-legged girls and bare-chested boys aren't shy about showing themselves off; their fast-moving limbs couldn't be placed with more precision. Pushed right downstage by the setting (which probably makes their number look bigger), it has to be accurate or they'd be off the edge! Indeed, the action often comes down into the auditorium and together with that downstage proximity it all adds to the audience involvement and an excitement that produces enthusiastic whistling and shouting.
Exhilarating though it is, the first half is driven by its steps. It is shiny teeth and bright eyes presentation with little real feeling behind its energetic emoting. In the second half, that changes, along with the music which dips into the classics with themes from Carmen and Carmina Burana. Jessica Lingotti is a strange Carmen in a high red mantilla bearing a black cross and a huge red net bustle but she delivers a fine Habanera and the dance takes on more drama while losing none of its energy.
The pace becomes smoother for a lyrical but passionate romantic duo: he is bare-chested, she bare-backed but despite the erotic charge his open white shirt and her white dress, however skimpy, give it a contrasting purity.
The feeling that was missing in the first half runs right through the second half which then ends with a "Ballroom Blitz" with the chandeliers back but the action becoming even more frantic. As it began to turn into a curtain call, it had the whole first-night house on their feet and still went on delivering.
In a fast-moving show with no programme guidance on who is dancing which number, it is difficult to credit particular dancers but they are all at the top of their game so here they are in alphabetical order: Jemma Armstrong, Arduino Bertoncello, Graziano Di Prima, Jorja Freeman, Ben Hardwick, Pasquale La Rocca, Giada Lini, Victoria Martin, Lauren Oakley, Nancy XU, Johannes Radebe, Gustavo Viglio and Megan Wragg. Australian, Italian, Chinese, South African, English and Irish, just watching them is exhausting; their stamina as well as their skill is amazing.
Reviewer: Howard Loxton