Firebird
John Taras
Dance Theatre of Harlem
Kennedy Center
–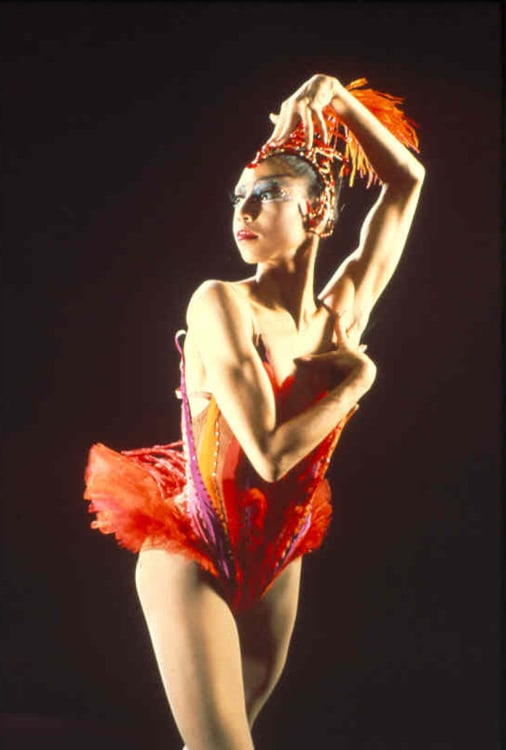 The PBS documentary Stravinsky's Firebird by Dance Theatre of Harlem takes viewers behind the scenes of the Dance Theatre of Harlem's preparations to perform Firebird at the Kennedy Center. There are also interviews, which are then followed by the online première of John Taras's Firebird.
There are many versions of Igor Stravinsky's The Firebird. Choreographer John Taras and designer Geoffrey Holder move the ballet out of the mystical forests of Old Russia and set it in an imaginary jungle. The production premièred in 1982.
40 years on, The Dance Theatre of Harlem is streaming a film made at the time with the dancers who created the roles. Stephanie Dabney, tall and harsh, is the fiery Firebird in sparkling red. Donald Williams, in white booties and white trunks, is the extremely good-looking Prince. Lorraine Graves is the Princess of Unreal Beauty.
I saw these particular dancers when The Dance Theatre of Harlem came to London in 1983 and enjoyed them and the ballet very much. The most arresting moment on screen and in close-up is when the evil Wizard's creatures attempt to tear the spread-eagled Prince apart by pulling his limbs in four different directions at the same time.
I have to admit, however, I still prefer the colourful version Mikhail Fokine did for Sergei Diaghilev's Ballets Russes in 1910 with costumes by Leon Bakst. I should also love to see again Maurice Bejart's revolutionary version with the dancers cast as rioting Parisian students.
Reviewer: Robert Tanitch