Firebird
Phil Davies
Tim Johanson and Hampstead Theatre Productions in association with The Children's Society
Trafalgar Studios 2
–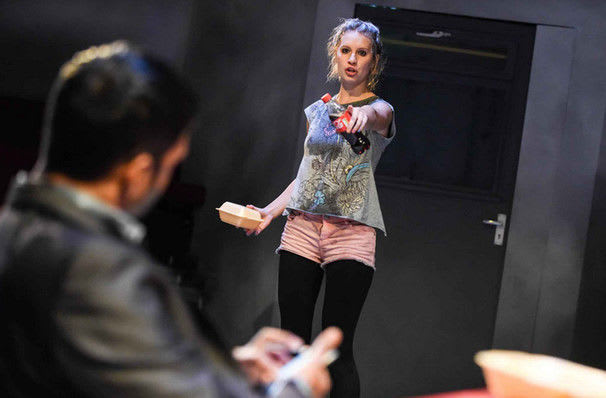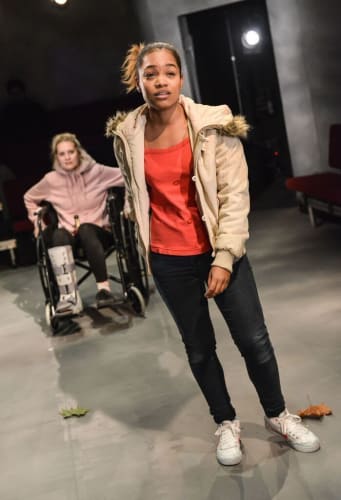 A transfer from Hampstead Theatre Downstairs, Firebird is a graphic study of the abuse of a vulnerable teen-age girl in response to the child abuse scandal that was revealed in Rochdale, the dramatist's hometown.
It is difficult to believe that such accomplished, carefully researched writing is Phil Davies's debut full-length play. (In fact it runs about 90 minutes, but that's called full-length these days.) It also presents a stunning professional acting debut from Callie Cooke as fifteen-year-old Tia.
Tia is injured. She fell down stairs, she says. With a wrist strapped up and a medical boot to keep one foot and ankle rigid, she's in a wheelchair. Her friend Katie has pushed her to the top of a hill where there is a good view and birdsong.
Does that sound idyllic? It won't stay so for long. Katie has done a bit of shopping and on the way they've snaffled a bottle of champagne, posh stuff though they're beginning to wish they'd gone for a stronger spirit.
Soon they are squabbling. Katie wants to play a fantasy game of what you'd like to be. Tahirah Sharif makes her seem bright, polite, not too worldly, she's drawn perhaps by the quirky vitality of bad-mouthed belligerent Tia. Tia's coarseness, however, is cover for her loneliness and lack of confidence.
Tia, who has started a Truth Game, takes things too far. Katie loses her temper and, in a paddy, tips her out of the wheelchair and goes off, leaving her lying on the ground.
A change of scene, a kebab bar, and rain-soaked Tia turns up trying to bum a bag of chips. An Asian guy takes pity: buys her a portion. She doesn't really know how to handle kindness.
He gives her fags (even the cigarette case), offers a ride home in his Mercedes. Phaldut Sharma's AJ seems a nice guy, perhaps he's just sorry for the kid, perhaps he's lonely too. Perhaps…. But she's not so lucky, this is grooming, and what follows is harrowing and painful.
Back in her wheelchair, a clammed-up Katie is interrogated by a copper. She's been accused of assault and theft, but she denies it. Eventually, what has happened begins to spill out. The detective (like AJ Pakistani and also played by Phaldut Sharma) says he believes her but many wouldn't.
A final scene in an unexpected situation brings even more appalling revelations. This isn't an easy evening but a very worthwhile one. Director Edward Hall concentrates his in-the-round production on essentials, Polly Sullivan's pared-back design even gives a scene change drama and the raw-edged playing brings a caustic reality that makes you realise just how gullibly vulnerable some youngsters are today, how much they need protection.
Reviewer: Howard Loxton