First Love
Samuel Beckett
Park Bench Theatre
Rowntree Park, York
–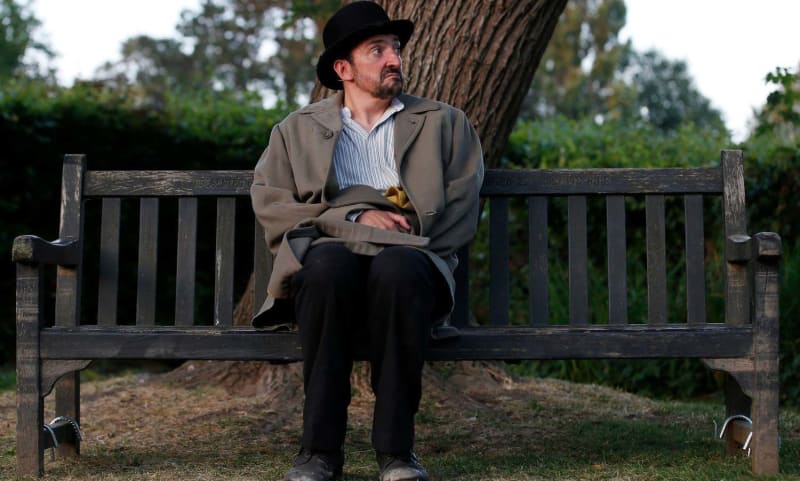 It's been five months since I last watched a piece of live performance, so I was delighted to learn that Park Bench Theatre has decided to stage a trio of socially-distanced monologues in the beautiful surroundings of Rowntree Park in York.
The first of these productions is Samuel Beckett's First Love, which was written in 1946 and later published in 1970. Originally formulated as a piece of prose—John Banville has described it as "the most nearly perfect short story ever written"—it was first performed as a dramatic monologue by Ralph Fiennes in 2007.
The central character, beautifully played by Chris Hannon, is a reclusive oddball who bridles at the prospect of human contact. As with much of Beckett's work, alienation is one of First Love's central preoccupations.
Following the death of his father, the protagonist starts to sleep on a canalside bench, and it is here that he first encounters the warm-hearted Lulu (although he isn't 100% sure that this is her name). Despite initial misgivings, he finds himself falling in love and later moves in with her.
Their courtship, however, is far from being a romantic idyll. The protagonist overcomes his disgust in order to sleep with Lulu, but later withdraws from her entirely. When he learns that his lover is a prostitute, he doesn't display any hint of sexual jealousy. Instead, his main concern is the amount of noise that Lulu's customers make.
Although First Love doesn't quite scale the heights of plays such as Endgame (1957) and Happy Days (1961), it nevertheless captures the irresistible blend of comedy, tragedy and linguistic flair that marks much of Beckett's greatest work.
Chris Hannon plays his part to the hilt, eking out every single nuance from Beckett's text. His compelling performance amply maintains the audience's attention over the course of an hour, and the intimacy of the experience is further heightened by the use of headphones. Praise must also go to director Matt Aston for making effective use of the limited performance space.
If you live near York and you yearn to watch some live theatre, then I can strongly recommend First Love. The social distancing measures that have been put in place are not particularly intrusive, and the quality of the piece more than warrants an evening out of the house.
Reviewer: James Ballands