First Words
Charlotte Joseph, Shauna Mackay and Ian Townsend
Octagon Theatre Bolton
Octagon Theatre
–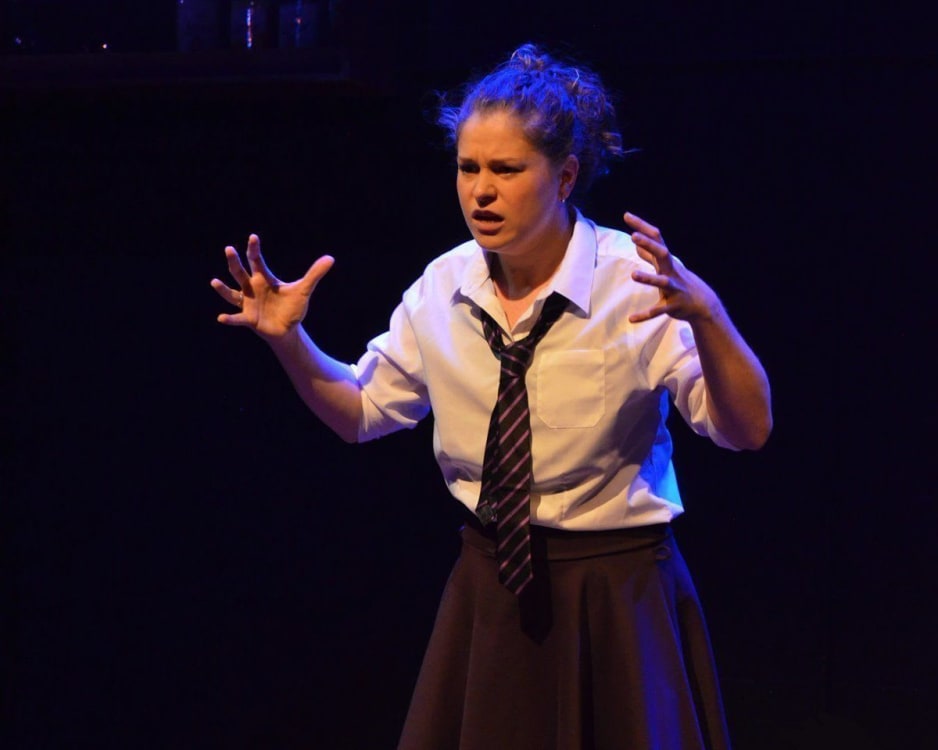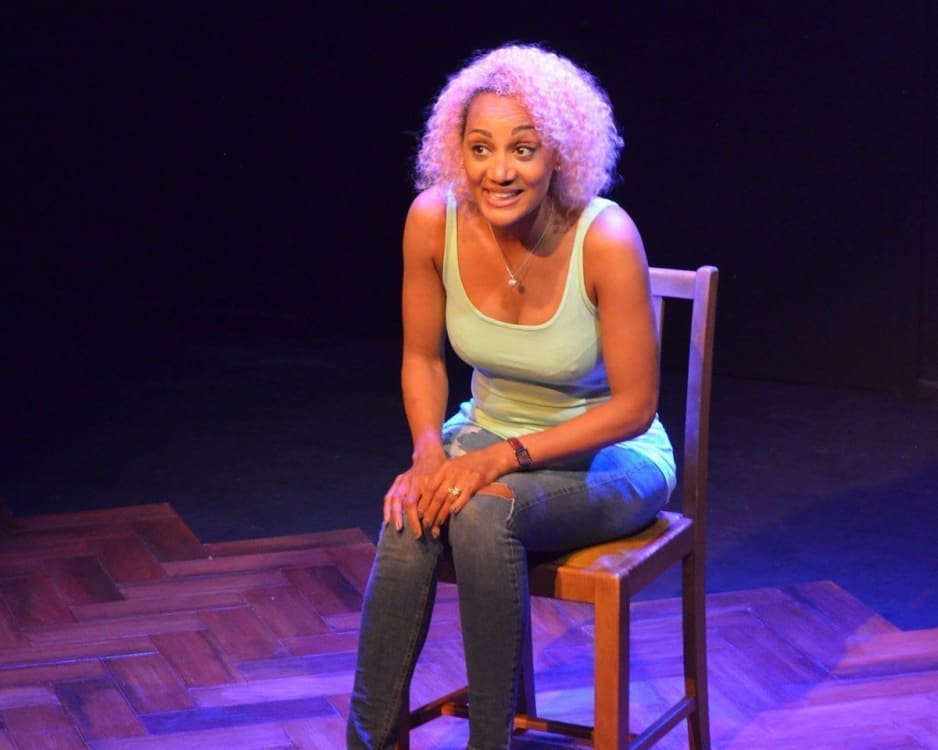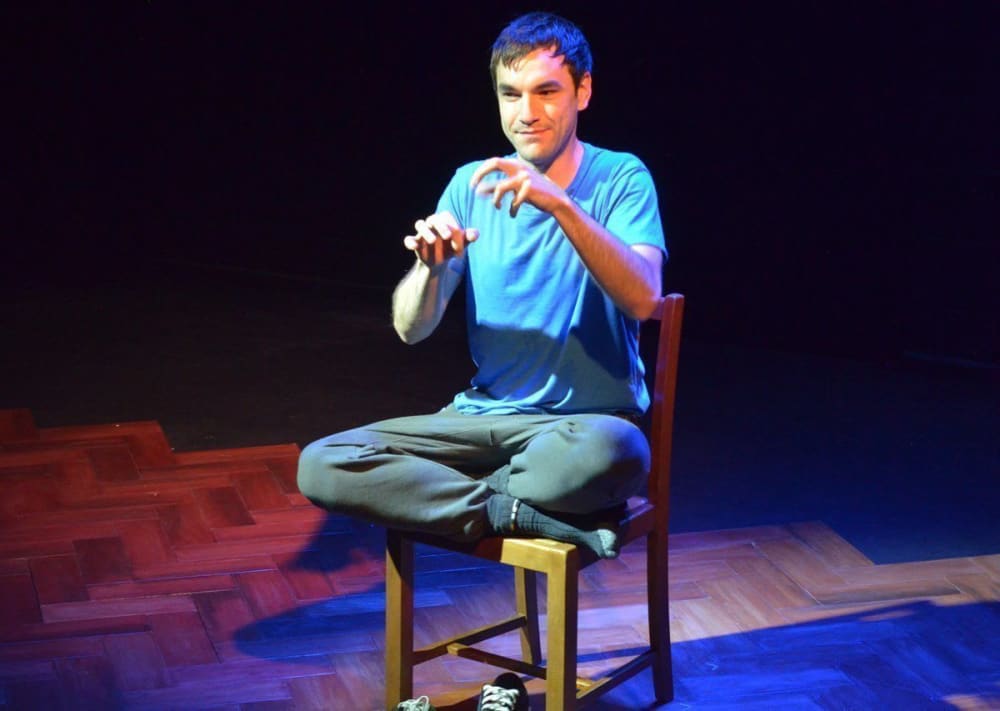 One of Elizabeth Newman's first new initiatives when she became artistic director in 2015 was to create the Octagon National Prize for new writing for the theatre. The first challenge was to create new monologues to be performed in the studio alongside Alan Bennett's Talking Heads in the main house—this performance is of the three winners.
As with most playwriting competitions, including the Bruntwood, the winning pieces focus on deprived young people from "broken" homes coping with various social issues, including parents not being very parental.
In Blue by Charlotte Josephine, schoolgirl Amber suffers from all of these and a lot more besides: she never knew her father, mother drinks and has a new boyfriend who hits her and may disappear for days at a time, an abusive relationship with a classmate, eating disorder—the works. Her escape is art, which she is very good at and gives her the "blue" feeling of the title—a sort of calm contentment, not what most people mean when they "feel blue"—which she also gets from alcohol.
There's some very good, intense writing in this piece, but it's all rather too much, both in the checklist of social problems fighting for attention and in the overall length of the monologue—nearly as long as the other two put together. Occasionally it slips into a kind of rap-verse (à la Kate Tempest), but as this isn't consistent it stands out as a little odd.
However some very tight direction from Newman and a fantastic performance from Jessica Baglow as Amber grab the attention and almost keep it throughout.
Following the interval, Shauna Mackay's Nobody Can Never Get Us Back gives us an account from the point of view of a separated parent, who makes a big sacrifice to save her kids from harm. The conceit is that Yolanda is recounting something that happened to her to an unseen policewoman, rather than to a theatre audience.
Yolanda constantly goes off topic, talking about everything but the terrible thing that has happened to her, which gradually becomes clear as the play goes on. The idea of this is fine, but it's difficult to pull off a whole play that avoids telling its story, and this piece therefore comes across as a bit of a jumble of nothing with a sudden shocking something finally coming at the end.
When the something comes, it is delivered very slowly with a pause after nearly every line, so it really starts to drag—some parts of Talking Heads, also directed by Ben Occhipinti, in the main house are the same. However Tupele Dorgu's performance as Yolanda cannot be faulted.
Michael Peavoy then bounces on stage as Leon in Ian Townsend's Being Amazing, giving a very welcome lift to the evening. Leon has some unspecified condition that means he is on medication and acts in quite a childish way for someone at college (annoyed that his mother keeps calling it "school") but he wakes up convinced that today is going to be amazing and sets out to make it so.
Leon also has problems at home in that his mum keeps running up debts and they live on takeaways and meals cooked by an aunt who isn't really an aunt, but nothing much seems to phase him when he is on a mission, the first stage of which is to try to 'phone up mum's heroine, Kate Bush (if you know her back catalogue, there are some nice extra gags in both the script and the choice of linking music for you to chuckle at).
His second plan is to set up a Facebook page for everyone to talk about why they are amazing. In a perfect counter-argument to the tabloid idea that social media is creating teenagers who can't communicate properly any more, the page gets people from his college who rarely speak to one another to open up and communicate for the first time.
Again, Occhipinti has to flag up serious moments with frequent pauses, but Peavoy's effervescent performance just about holds it together. This is a funny, heartwarming and life-affirming piece that is far from idealistic in its ending but is a great way to end, sending everyone out of the theatre with a smile after a long evening.
The Octagon is to be congratulated on this great initiative that doesn't just claim to support new writing or palm off writers with a script-in-hand read-through on a dead night but actually puts it on stage using its regular directors and some very talented actors.
Reviewer: David Chadderton