First Draft
Plays by Zinzi, Dean, Luyanda, Jade, Odete and Didi
Year 4, 5 and 6 pupils from Christ Church Primary School, Newcastle
Live Theatre, Newcastle
(2010)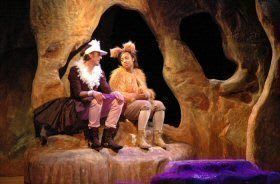 This wasn't meant to be a review. I went along to Live intending to write a feature about what seemed to be an interesting education idea, bringing together 8 to 11 year old children to do workshops with professional writers, who then developed their plays with professional dramaturgs, with the plays finally performed by professional actors. I expected something worthy but childish but which might help me in writing Theatre in Education pieces for primary schools and could be of interest to BTG readers who are involved in the field.
But it's turned into a review because what I experienced was an entertaining, funny and illuminating night at the theatre. Yes, the children had been mentored and each play was professionally directed but all the final script decisions were taken by the children and the rules for the directors and actors were very simple: nothing in the script should be changed: no paraphrasing, no making it seem more adult, no censoring of child-like language, even if a bit rude (in childish terms, of course: poo and fart!).
One actor told me afterwards that they had actually made one change: the stage directions instructed that he should cry and the crying should be represented by blue dots moving down his cheek.
"We told him that wasn't possible, so he suggested using a laser. I value my eyesight too much to do that, so we decided I should just cry!"
The twelve actors (two per play) varied from David Whitaker, who was one of the founder members of Live back in the seventies and is one of the cast of The Pitman Painters which is about to travel to Broadway - and two other members of the same cast, Lisa McGrillis and Philllippa Wilson, also appeared - to Sarah Lewis Obuba who has just emerged from Live's Youth Theatre. They included two former members of the Emmerdale cast, along with Live regulars. The theatre really did the kids proud with their actors - and with their directors.
Each play was around fifteen minutes long and took place on the same basic set (designed by Isla Shaw) which gave many opportunities for entrances and exits, as well as for concealment and providing different levels.
Unsurprisingly animals and families featured heavily: in Odete's Madness Torro School, for example, the Bull (Laura Norton) is deeply miserable because he thinks his parents might have been killed in an explosion on a plane and a dog (a delightfully poodle-like Catherine MacCabe) takes the lead to help him find the truth about what happened. In Piñata Land by Jade, a young hamster (Harry Hepple) finds his mother (Phillippa Wilson) whom he was sure he had lost for ever. And in one play there was a moving (and at the same time funny) line which obviously was part of the writer's life: "My mother is elderly."
There was an adventure story. Eagle Wars by Dean tells how the son of King Kong (Dale Meeks) joined with Billy the Fruit Bat (Zoë Lambert) and they took on and and defeated the predatory eagles. There was a concern for the environment (with more than a glance at the dangers of natural disasters) in Zinzi's Super Sandy Saves the Day (with Chloe Allen and David Whitaker) and, in Luyanda's Leo and the Ostrich, a quite horrifying tale of what happens when the lion lies down with the ostrich. I doubt that any adult writer would dare produce that ending in a children's play!
The Farting Rat and the Girly Cat by Didi was an absolute revelation. The Rat (Lisa McGrillis), farting almost continuously - and flicking the "product" at the audience - smothers the Cat (Michael Lockhart) in poo and gunge because he is "girly" and likes wearing pink. This play tackles head-on the difficulties of coming to terms with one's one identity in spite of peer-pressure and bullying, and it was written by the youngest of the young playwrights. It was, at the same time, funny and deeply moving - and showed just how patronising my original approach to the event really was.
The final curtain call was taken, not by the actors, but by the writers, and that was just how it should be, for they were the stars of the evening. Prior to seeing First Draft I would not have believed that children's writing could provide such a hugely enjoyable and illuminating evening of theatre.
Christ Church Primary is not in a leafy suburb but is an inner city school set in what is mainly a council estate, not an oustanding school (although its 2002 Ofsted report described it as "a good school with many strengths"), so I am left with one major question: what on earth happens to all that imagination and creativity as these children pass through the secondary stage of education? Does secondary school stifle that creativity? We need to take a long hard look at just what we're giving our secondary school students. We cannot afford to lose what these children have to offer.
Reviewer: Peter Lathan