First Draft 2011
Plays by Chianna Rebair, Niamh Green, Czarek Zalesinski, Maximus Lowthian, Saba Sheshkalani, and Harry Mulligan
Live Theatre, Newcastle
(2011)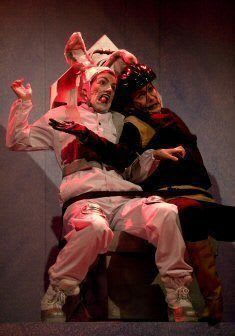 How often do you come out of an evening in a theatre thinking, "That was fun"? You might say it was interesting, funny, moving, shocking, harrowing, exciting, even boring, but fun? But there is no better word to describe this year's First Draft at Live Theatre than "fun", with all its overtones of being childlike. And it was fun not only for the audience but also for the performers who were clrarly enjoying every minute!
First Draft 2011 is an evening of short plays by 9 and 10 year olds from Walkergate Primary School in Newcastle, Brighton Avenue Primary School in Gateshead and Valley Road Primary School in Sunderland. Two of Live's education and outreach staff delivered weekly sessions at the schools. The classes selected their two favourite stories and the two writers from each school worked one-to-one with an experienced writer who, using the characters they devised in their development sessions, helped them each to write a 10 minute play. The plays were then handed over to professional directors and writers to produce with the same commitment as they would give to any play in Live's programme.
And what a fun evening it was! The mixture of children's stories and words and professional production values is an irresistible combination. Yes, there were a few "with one bound he was free" moments but that was part of the joy of the whole thing. Hugely imaginative but firmly rooted in the children's lives - friendship was the common theme - every play entertained and gave food for thought.
The range of subjects and characters was fascinating: a rabbit and an AK47 who fly to the moon; a frog, a pirhana, a super-hero, an old PET computer, an Australian alligator, two peacocks, even a tree... twelve altogether. Each play has a different director and the actors (two per play) are Darren Beaumont, Chris Connel, Adam Donaldson, Leanne Golightly, Zoe Lambert and Eva Quinn.
It was, of course, a fantastic experience for the young writers (and that is the whole point) but it is also great for audiences because it reminds us what theatre is all about, the simple pleasure of storytelling.
Live is hoping to develop a version of First Draft for use in Secondary Schools, targeting 11 & 12 year olds with poor literacy skills, and is hoping to get one of three awards available for each region from NatWest's CommunityForce, a competition voted on by the public. Good luck to them! I've voted.
Reviewer: Peter Lathan