Fisherman's Friends The Musical
Book by Amanda Whittington, based on a screenplay by Nick Moorcroft, Meg Leonard and Piers Ashworth
ROYO
Cambridge Arts Theatre
–

Listing details and ticket info...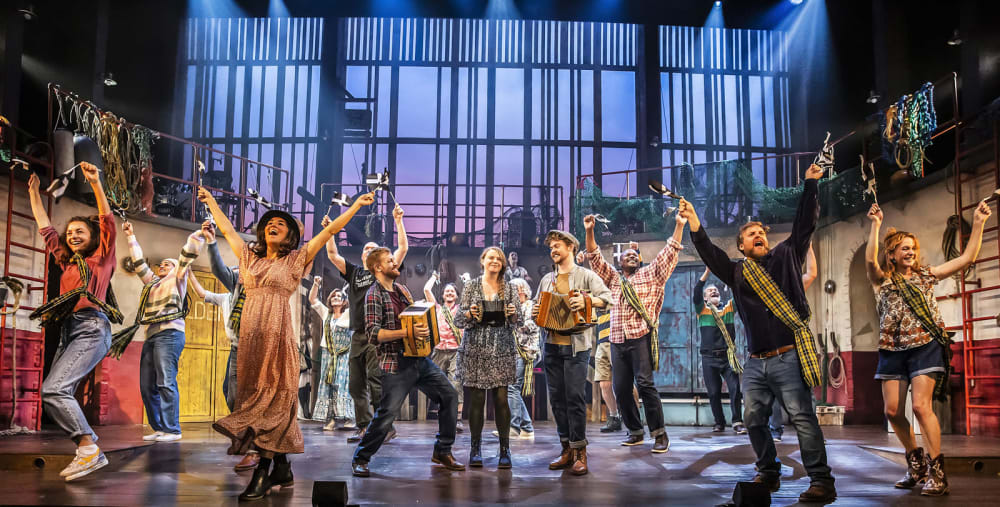 Ok, confession time. I am a huge sea shanty fan and an even bigger lover of all things Port Isaac. I love The Fisherman's Friends albums of which I have them all. There, said it, and I'm not ashamed to admit it.
Let's be clear that this could have put an extra lump of burden on my expectations attending The Cambridge Arts Theatre on Tuesday. On the one hand, I went in excited to see how Amanda Whittington (of Be My Baby fame) had adapted the 'real' story of the now famous Cornish group and the two feature films that have since followed. On the other, this was a pretty sacred space for me and I was nervous to see if the heart and soul of the story, the songs, the community would be upheld and treated with the reverence I feel it deserves.
I am very pleased to report that this production did not let me or indeed any of the equally excited audience members down. It is simply a delight. This is a fine mix of tight harmonious singing alongside a funny script, creative staging and imaginative choreography and a cast who just seem to love being part of the performance.
There is something very reminiscent of Come From Away, which is set for a UK tour in the near future. The energy and belief from the ensemble is credible in both performances and the involvement of the live band in this particular production adds to the notion that this is a company joined together in their love of music and storytelling.
The direction from James Grieve is slick and unrelenting, making impressive use of staging to move from scene to scene and never really allowing for anyone to dwell on any moment, or any of the sentiment to linger on longer than it needs to. I particularly enjoyed the journey to London (no spoilers) which was portrayed in a simple but effective movement with chairs and a prop steering wheel, accompanied, of course, with a sea shanty.
The plot itself is full of twists and turns and just when you think you can relax and enjoy "No Hopers and Rogues" you are hit with another blow. I feel as though the script as a whole could have been a little shorter; there are scenes that felt included to squeeze another of the 30 sea shanties on offer into the narrative. This does not detract though from what it is that makes this such a success, namely the wonderful music which is simply an uplifting joy throughout.
It feels wrong to pick out any particular individual, such is the ensemble nature of this cast, but Parisa's Shahmir's performance as Alwyn is a real treat with a stunning voice that lends itself well to this folky style of music.
Every audience member left humming a tune or whistling a sea shanty refrain and I can predict that this production will have the same positive impact as it moves from Cambridge slightly closer to home at the Hippodrome in Bristol for the next leg of the UK tour.
Reviewer: John Johnson