Fisherman's Friends: The Musical
Book by Amanda Whittington; music as performed by Fisherman's Friends
Royo, Flying Fish Productions, Mighty Village, Island Records and David Mirvish
Leeds Grand Theatre
–

Listing details and ticket info...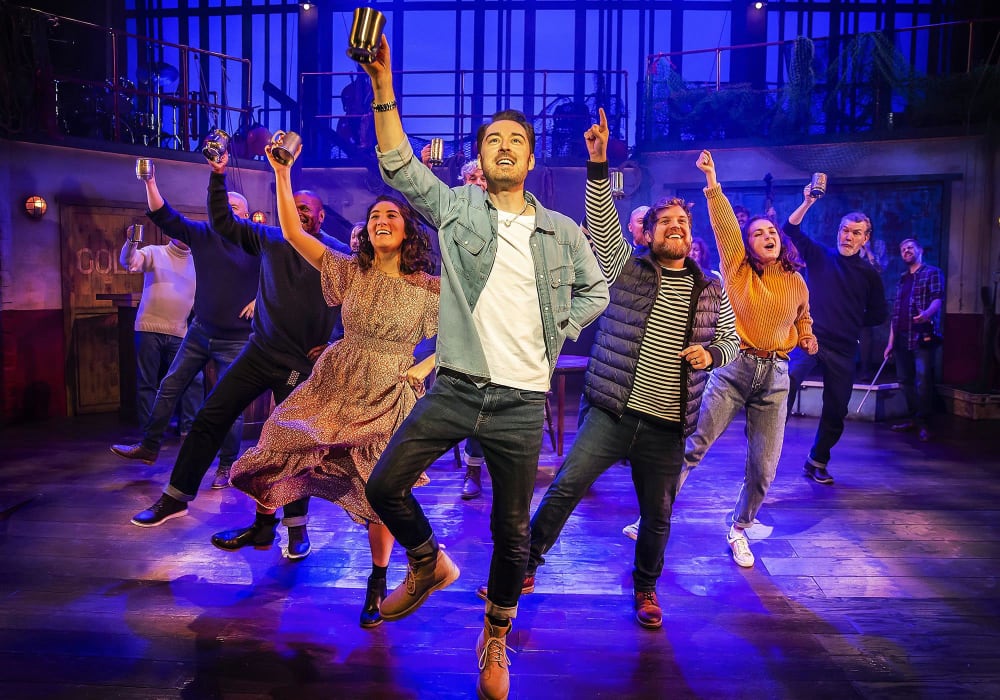 In 2010, Fisherman's Friends—a group of shanty-singing fishermen from Cornwall—achieved the seemingly impossible by landing a £1 million record deal, storming the album charts and performing on the Pyramid Stage at Glastonbury. It's the kind of far-fetched rags-to-riches tale that upholds Lord Byron's famous remark that "truth is stranger than fiction".
Given the heart-warming nature of the story—which celebrates community, cultural heritage and the ability of ordinary people to achieve extraordinary things—it's hardly surprising that it was turned into a successful film in 2019, earning comparisons to much-loved classics like Local Hero and The Full Monty. The obligatory sequel (released earlier this year) may not have received the same level of love, but the warm response to this touring stage production (more so from audiences than critics) suggests that people are still fascinated by the group's unexpected success.
Amanda Whittington's script for Fisherman's Friends sticks closely to the big-screen version. Danny (Jason Langley), a cocky music executive from London, finds himself stranded in Port Isaac—a picturesque fishing village in north Cornwall. When he hears the local men singing, he has a eureka moment: he will get the group a record deal and introduce the rest of the world to the magic of sea shanties.
If you are a fan of choral singing then it's very likely that you will enjoy Fishermen's Friends. While I was not particularly enamoured with the show's score, which consists of canonical sea shanties such as "South Australia", "Blow the Man Down", "John Kanaka" and "Cheer'ly Man", I can't deny that they were lustily performed by a game ensemble.
The narrative arc of the show is highly formulaic, and the lack of road blocks on the band's journey to success meant that I didn't find myself investing much in the story. That being said, Whittington's script benefits from some enjoyable comic dialogue.
The performances are strong across the board. Jason Langley is highly engaging as Danny, the fish out of water whose big-city ways rub the locals up the wrong way, and James Gaddas is the epitome of gruffness as Jim, the fishermen's stoic leader. Susan Penhaligon impresses as the community's straight-talking matriarch, and there are amusing supporting turns from Hadrian Delacey and Pete Gallagher.
Most impressive of all, however, is Parisa Shahmir as Alwyn, Jim's daughter, who finds herself increasingly drawn to Danny. Not only does she sing beautifully, she also captures the character's ambivalent relationship to her home (from which her mother ran away) and her new beau.
Despite my misgivings about the show's music and plot, I was still impressed by James Grieves's slick, purposeful direction. The 25-strong cast of actors and musicians help to create the sense of a lively, close-knit community, and there is high-spirited, foot-stamping choreography courtesy of Matt Cole. Fisherman's Friends is also a visual treat, with Lucy Osborne's rig-inspired set providing a versatile performance space for the ensemble.
Reviewer: James Ballands