Fisherman's Friends
Amanda Whittington and Fisherman's Friends
Royo, Flying Fish Productions, Mighty Village and more
Sheffield Lyceum
–

Listing details and ticket info...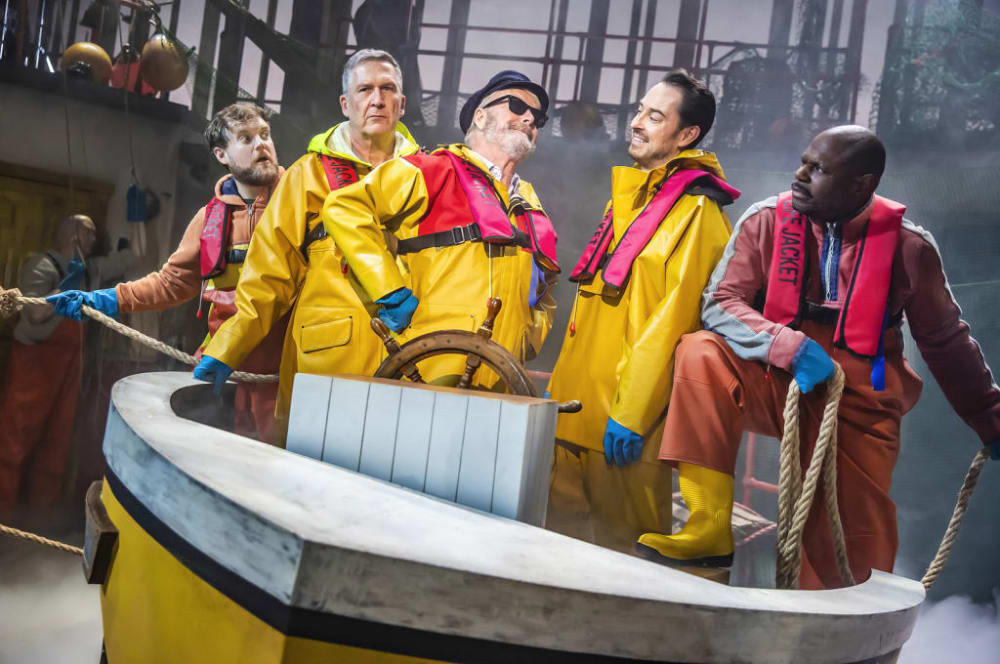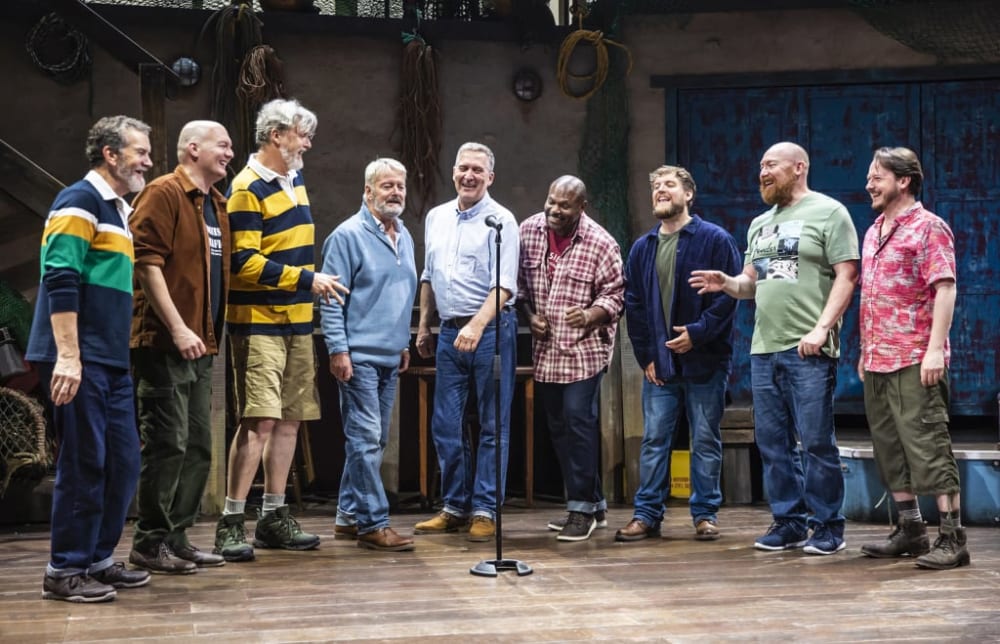 A full Sheffield audience was invigorated and enthused last night by a play built around sea shanties. The shanties are drawn from a variety of sources, some dating back to the time of sailing ships and others incorporating the call and response pattern of African American slave songs. In either of these settings, it is the rhythmic communal chant which enables the group to work beyond the strength of the individual and endure hard labour.
Cornwall has long been a county of fisherman and sea traders, so the shanties are part of a rich cultural heritage. It is now 30 years since a group of fishermen from Port Isaac formed a 'buoy band' called Fisherman's Friends, which has reached a much wider audience than the originators dreamt of and, after success in the charts, two films and an appearance at Glastonbury, are now embarked on an extensive stage tour.
The book by Amanda Whittington relives the story of the music producer from London who stumbled on a pub in Port Isaac where shanties were being performed, was inspired by the music and determined to promote it so that it would reach a much wider audience. The tale becomes more complicated in the action and includes love interest and darker moments before the dream is realised.
The narrative is a vehicle for what is billed as "Music as Performed by Fisherman's Friends" and provides an opportunity for an unlimited range of songs accompanied or a cappella and vigorous, entertaining dance routines brilliantly choreographed by Matt Cole.
Lucy Osborne's open setting provides space for the crowded pub scenes, a trip to London and a lifeboat struggling in perilous seas. The talented and versatile accompanying musicians (musical direction by James William-Pattison) are visible at all times and it is exciting to see the range of instruments they play from groaning squeezebox to a variety of stringed instruments and the vital rhythm providers. All this in addition to throwing themselves with enormous energy into the dance sequences.
But at the heart of the production is the outstanding quality of the singing. James Gaddas gives a dominant performance both as actor and singer as Jim, leader of the group. Parisa Shahmir has a beautiful voice, excels in solo items and makes an important contribution to the dance sequences and Susan Penhaligon performs the dramatic role of the grandmother with warmth and sensitivity.
This is very much an ensemble production. Nothing is more thrilling than the a cappella moments when nine men in a row, all with powerful singing voices, harmonise perfectly without accompaniment. There is also wit and humour in the production (director James Grieve) which comes out in the quick vernacular exchanges between the characters and the occasional, exaggerated, almost parodied movement of dancing couples.
This is a thoroughly enjoyable and uplifting theatrical experience performed with impressive energy and commitment by an excellent cast.
Reviewer: Velda Harris