Fisherman's Friends The Musical
Book by Amanda Whittington based on the screenplay by Nick Moorcroft, Meg Leonard and Piers Ashworth
Royo, Flying Fish Productions, Mighty Village, Island Records and David Mirvish
The Lyric, Theatre Royal Plymouth
–

Listing details and ticket info...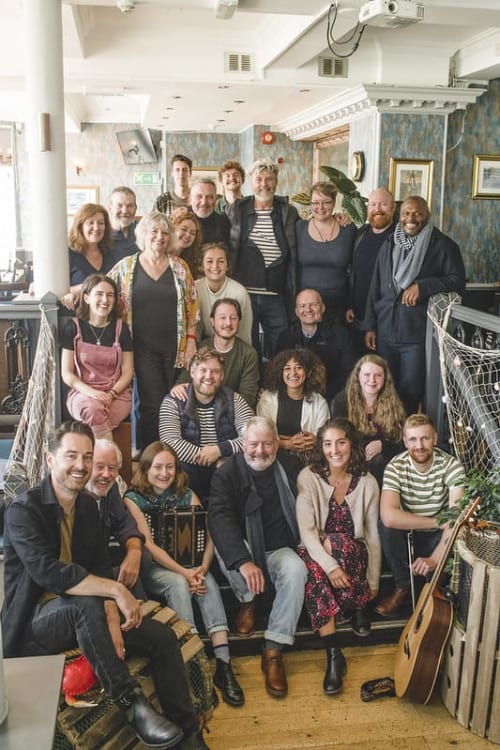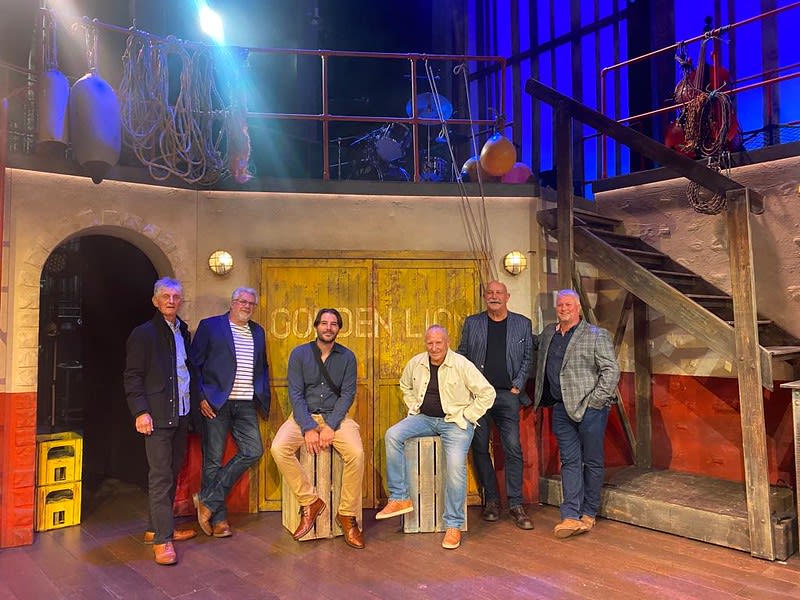 A gentle, if predictable, story of Platt to Glastonbury's Pyramid Stage, lobster pots to top of the pops, with a sprinkling of romance in the salty Cornish air, Fisherman's Friends The Musical is now on tour.
Based on the true story of the all-male a capella dectet from Port Isaac in Cornwall whose sea shanties unexpectedly hit the charts in 2010 becoming the first traditional folk album to enter the UK top ten, the unlikely 'buoy' band success has spawned two films, a documentary, Diamond Jubilee, Twickenham and BBC Proms In The Park spots. Numerous festivals, prestigious engagements and hit records have followed—and now a musical.
It is all very fuzzy and warm: camaraderie, community and proud Cornishness with many local jokes (not sure how well some of those will travel) but with barbed comment and poignant reminders of the dilution of villages with second homes, swamped by seasonal tourists and the pub and more faltering outside emmet season. And all the while, with clay, arsenic and tin running in their blood, the lobster fishermen battle the weather and the womenfolk wrestle post-natal angst and fill thermos flasks dreading the day the maroon goes up.
Amanda Whittington's book is infused with quiet wit and gentle comedy with stereotypes galore as London meets the remote seashore with the nightclub antics of the choristers pure delight.
James Gaddas (Casualty, Bad Girls, Coronation Street, Billy Elliot, Mamma Mia!) plays Captain Jim, strident but brooding leader of the shantymen, whose sweet-voiced daughter Alwyn (Mamma Mia!'s Parisa Shahmir) provides the love interest, common sense and goosepimples with her spellbinding original renditions and guitar accompaniments.
Jason Langley is Danny, the rejected musical would-be mogul, who survives a baptism of fire to drag the reluctant fisherman to success. Cornishman Robert Duncan (Gus in Drop the Dead Donkey, Casualty and Where The Heart Is) while Emmerdale / A Fine Romance / Bouquet of Barbed Wire's Susan Penhaligon, who was brought up in Cornwall, is his wife Maggie.
It is impossible—and unfair—to pick out favourites in a tremendous, cohesive, all-singing, all-dancing cast of musicians and actors. Fiddles, bass, guitars, percussion, accordions and more venture onto stage as the 20-strong ensemble bring choreographer Matt Coles's vision to life with musical direction by James Findlay and musical supervision and arrangements by David White.
Lucy Osborne's set is atmospheric and flexible with the streets and sea wall melding into London balconies while the village pub morphs into a bucking fishing boat, with clever use of ropes, all enhanced by Johanna Town's lighting design.
But it is the visceral soundtrack that is the most memorable: 37 songs altogether including "1770s' punk songs", old sing-a-long favourites, those from the film and some new: "Drunken Sailor", "Nelson's Blood", "John Kanaka", "South Australia", "Cousin Jack", "Fisherman's Blues", "Village By The Sea". And on press night, several of the original Friends joined the cast on stage for a fabulous, rousing Fisher encore.
Most enjoyable.
Reviewer: Karen Bussell