Something Fishy
Devised, written and performed by Liz Hague and Kate Mooney
Moonhag
BAC
(2006)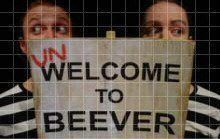 If the thought of Frankenstein, crossed with Agatha Christie, crossed with The Adventures of Tintin fills you with delight, Something Fishy will probably appeal.
This is the first collaboration of writers and actors Liz Hague and Kate Mooney as the cleverly-named Moonhag, though they worked together in the 2005 Edinburgh Fringe Festival with Splice and Stitched. It's an energetically performed, slickly directed hour-long romp through the mysteries of a blighted fishing village called Beever.
Blighted, because it's a fishing village with no fish. Our two heroines Daisy and Petunia (Mooney and Hague) are shipwrecked and land at Beever. They encounter several inhabitants who are all a little off-beat, bordering on the sinister. Among them are Nancy and Bill, the owners of a B & B who seem to be straight out of EastEnders and who ominously put the girls in Room 13 and warn that any strange noises they might hear is only the boiler. These are followed by a dribbling hag who comes to a sticky end; Nobby, a fisherman turned shell-salesman with whom Petunia falls in love, and Agatha, a puppeteer who runs a particularly violent Punch and Judy Show (all of these characters are played by the two women, who achieve remarkable contrasts, vocally and facially).
Mention fish fingers or a tin of tuna however and the villagers begin to cower, leaving the girls to guess what's at the bottom of their strange behaviour. A grizzly accident forces them to tackle their fears. They realise that as well as a lack of fish, there's a distinct lack of children in the area. And the local pub is called The Screaming Child .
I won't spoil the ending by saying any more although the point of the production isn't so much to solve the mystery as to enjoy the ride while you're getting there.
The production design (presumably also by Mooney and Hague as neither a director nor a designer is listed) cleverly allows an almost empty stage while the props (designed by Kerry Flynn) are hung from overhead. The stripy costumes and stripy props provide a unity of design, while suggesting a sense of imprisonment.
The dialogue was amusing with some good comic lines and the actors made sure that the pace never flagged. Wisely, the production didn't go over an hour as it would have been difficult to sustain the plot for any longer. But it is the performances from both Mooney and Hague that make this production worthwhile.
Running until 12th November
Reviewer: Bronagh Taggart