Five Dead No Bodies
Susan Wear and Rob Lawson
The Customs House
Customs House, South Shields
–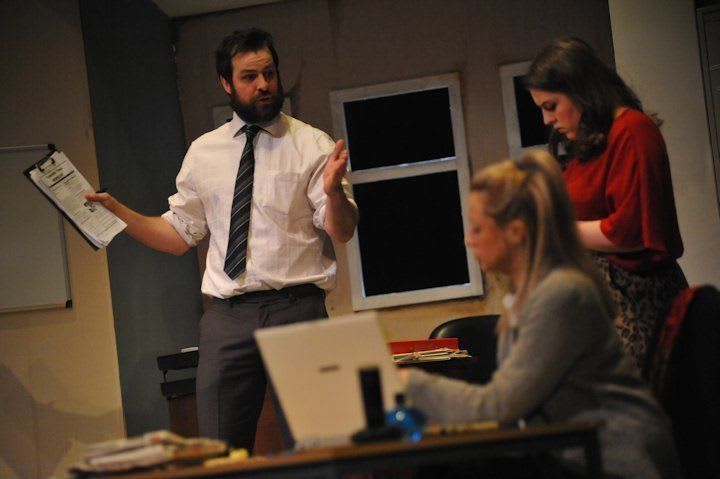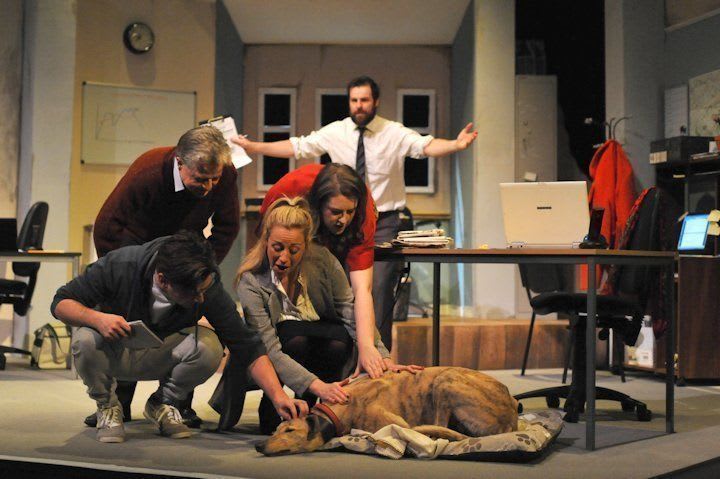 Local newspapers are dying. In the last decade over 200 have closed, the number of journalists employed has fallen by 50%, regional newspapers are losing 10% of their sales each year and the average circulation of local papers in major cities is 30,000, a drop of more than 70,000 since the 'eighties.
The reason? Partially the Internet, where people get their news for free, and partially a distrust arising from the amount of "fake news" and perceived bias. In fact, one suspects that the only people less trusted than journalists are politicians!
The solution? Who knows? Max, the editor of the Tyneside Times (circulation in free fall), thinks he knows, but so does Howard, the proprietor, and it's a very different answer to Max's. Journalists Janet, Dan and Tom have their ideas too, as does the paper's advertising manager Jordan who is all for giveaways and two-page advertorials.
For the journalists it's all about news, while for Howard it's all about money and Max has to tread the fine line between what he knows to be a good news story and what might upset Howard and bring to light his dodgier dealings. And then there's the Mayor, local police chief Davey, club owner Angus and baker Baps who all want to use the paper for their own purposes, some nefarious and some—rather fewer!—possibly altruistic (maybe).
The big story which sends circulation soaring is the disappearance of five local bigwigs, the discovery of body parts, clothes abandoned on the beach…
A cast of five play eleven parts between them—and then there's the "best newshound in the business," ironically named Murdoch, played by Bandit, a greyhound.
Five Dead No Bodies is a comedy murder mystery and its cast of Micky Cochrane (Max), Andrew Berriman (Tom, Jordan and Abi), Gary Goodyear (Dan, Davey, Angus, Howard), Christina Berriman-Dawson (Janet and Peggy the tea lady) and Kylie Ann Ford (Steph the girl in the office and Chelsey the council's Director of Communications)—plus, of course, Bandit—convince, keep up a good pace and handle their character changes with seeming ease, often at a moment's notice, sometimes exiting on one side as one character and entering moments later from the other as someone else, having done a bit (but just a bit; there's nothing major) of a costume change on the way. It has to be said that Goodyear bears the major burden of character-swapping and very well he does it, too.
The production values are good: a convincing small newspaper office set (by Alison Ashton), often amusing projected newspaper headlines, and unobtrusively effective lighting (by Alexander Edwards). It would, however, definitely benefit from some cutting: there is a lot of scene-setting in the first act, in the sense of the problems facing local papers generally and not just the Tyneside Times, much of which is admittedly interesting and amusing, but the murder mystery plot doesn't really get going until the second half.
Enjoyable, amusing and thought-provoking as it is, Five Dead No Bodies could lose around ten minutes, mainly in the first act, and benefit greatly.
And although Max's rather cheesy final speech is deliberately subverted to an extent, the subversion could do with going a fair bit further!
Reviewer: Peter Lathan