Five Finger Exercise
Peter Shaffer
The Print Room at the Coronet
The Print Room at the Coronet
–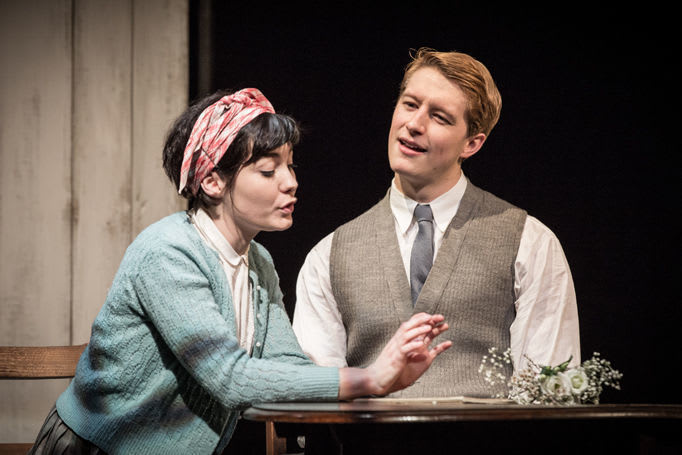 Peter Shaffer's Five Finger Exercise directed by Jamie Glover is a surprisingly entertaining play.
I say surprising because for the early part of the evening I felt as if I might be at some slightly caricatured upper middle class drawing room amusement, the kind we might associate with Somerset Maugham or Noël Coward. But no sooner did it lull me into thinking I was seeing one kind of thing than this play, first performed in 1958, changed into something more disturbing that is closer to the new theatre of the following decades.
The Harrington family is spending a weekend at a cottage in Suffolk. They are attractive, wealthy and comfortable. Stanley (Jason Merrells) has made his money as a furniture manufacturer. His son Clive (Tom Morley) is back from Cambridge University. His young fifteen-year-old daughter Pamela (Terenia Edwards) goes out horse riding. The family pays a quiet young German migrant, Walter (Lorne MacFadyen), to be Pamela's tutor and have invited him to stay with them.
This is an England that is successful and seems to need nothing more. They initially talk like mannered characters from a period novel. Stanley's wife Louise (Lucy Cohu) is cultured, likes music and will swap the odd French phrase with her children.
But beneath the surface of this apparent settled family gathering there are deep-rooted tensions and it doesn't take long for them to emerge.
Walter becomes a focus for the tensions and the characters' discontent. Stanley is irritated by the way his family takes to him and even the music he plays. He speaks of him as being typical of the arty types whom he claims are a bad influence on his family.
Jason Merrells as Stanley plants himself solidly on the ground or sits stiffly in a central chair that dominates the room. He is as certain in the way he stands as he is in his attitudes to the world. Only his eyes give away his bewilderment at the things that are happening around him.
Lucy Cohu as Louise regards Walter as a link to the cultured world from which she feels cut off. He is also someone with whom she can flirt and try to impress with her sophistication.
Pamela playfully imagines him as a romantic friend. Clive, who is emotionally confused about his affections, sees him as a competitor for his mother and a potential close friend.
The family are all dissatisfied with the way things are so they tear at each other but without really knowing how things can be different.
This is a highly watchable play with fine performances that reminds us of a world that no longer exists.
Reviewer: Keith Mckenna