Five Guys Named Moe
Book by Clarke Peters featuring Louis Jordan's Greatest Hits
Ovation Productions
Upstairs at the Gatehouse
–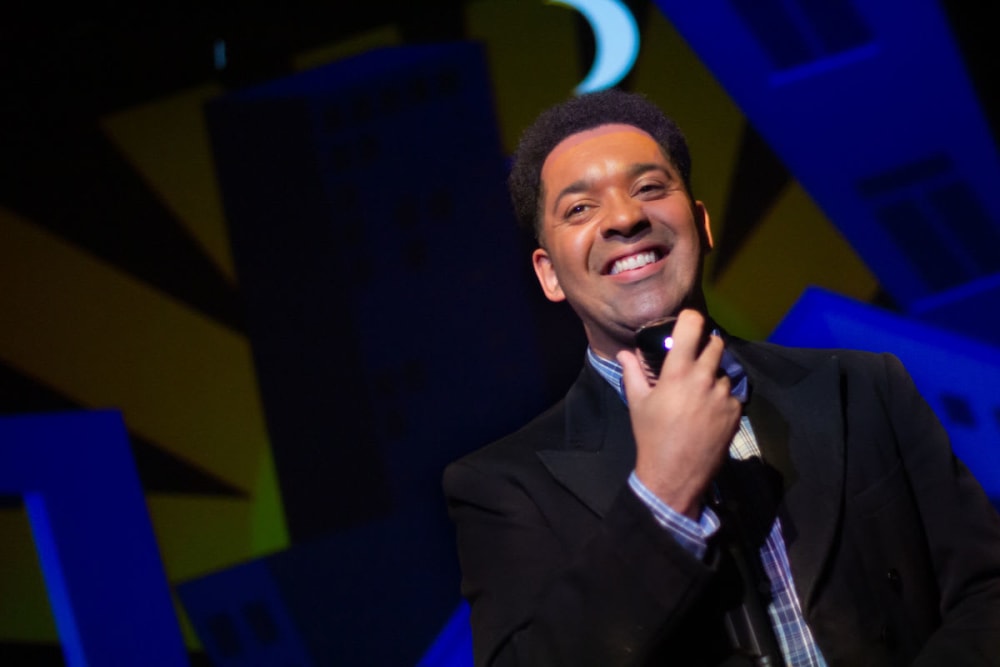 This revival of a show which has previously won both an Olivier and a Tony is a joyful explosion of music at this difficult time. It is a compilation of numbers, mainly by saxophonist songwriter Louis Jordan, a popular performer from the 1930s through to the 1950s who earned the title "King of the Jukebox" and has been called the Grandfather of Rock-and-Roll.
Clarke Peters links them together with a very loose framing that see a young man drowning his sorrows with whisky after being dumped by his girlfriend and then being visited by five guys who seem to come with the songs on his radio and then proceed to give him advice.
Juan Jackson plays the young man (he's called Nomax) rolling home drunk and annoying the neighbours by turning up this radio's volume. Nomax goes on drinking and Jackson plays him, skilfully dancing and singing despite being believably tipsy.
Led by K M Drew Boateng's Big Moe with Kieran McGinn as Four-Eyed Moe, Christian Maynard as Little Moe, A J Lewis as Eat Moe and Andre Coulson as No Moe, they round on the stony-broke Nomax with numbers that range from jump blues and boogie-woogie to calypso and early rock 'n' roll. They have barely descended upon him before director and choreographer Mykal Rand has them giving him a shave in a barbershop number.
Five Guys is essentially an ensemble show but each of them gets the chance to shine. Kieran McGinn and K M Drew Boateng whip up audience participation in "Push Ka Pi Shi Pie" with a befeathered McGinn also heading a funky chicken dance to "Ain't Nobody Here But Us Chickens" and sharing a tap routine with Andre Coulson, who is making his professional debut in this show. Another newcomer is Christian Maynard, still finishing his course at the Urdang Academy, who was called in halfway through rehearsal when another actor had to withdraw after breaking an ankle in rehearsal. These two both perfom like experienced troupers.
Songs just keep on coming and in the second half, when costume designer Jean Gray puts them in tails, the atmosphere becomes more like cabaret but with songs like "Let the Good Times Roll" and "Is You or Is You Ain't My Baby" and more participation for "Caldonia", things are on a high, though they slow down a little for A J Lewis's rich-voiced delivery of "Don't Let the Sun Catch You Crying" which creates its own mood before going into a lively "Choo Choo Ch'Boogie".
Performed in traverse, as Upstairs often is for its in-house musicals, the nifty choreography is in close-up, the production making sure that both side of the house get full value.
Sadly, when I saw Five Guys it wasn't a full house. Though it had been booked out, either contact with COVID or fear of it had caused cancellations. Those empty seats change the acoustic and in some numbers there are times when the otherwise excellent band (under John Reddel's musical supervision and directed by Griffin Jenkins) drowns out the lyrics.
Be assured that Upstairs complies with all the guidelines and has See It Safely approval. For those who want extra reassurance, there are a number of performances which will be specially socially distanced.
For our theatres to survive, they need the support of their audiences. We are all subject to government direction, but if you are fully vaccinated you are protected. A negative lateral flow test will help protect others. This is a show is waiting to bring you cheer.
Reviewer: Howard Loxton