Five Years
Neal Pike
Neal Pike and Matt Miller
Alphabetti Theatre, Newcastle
–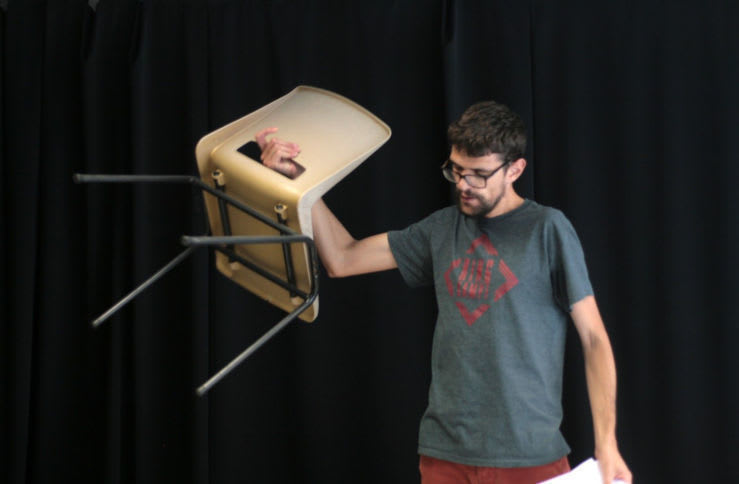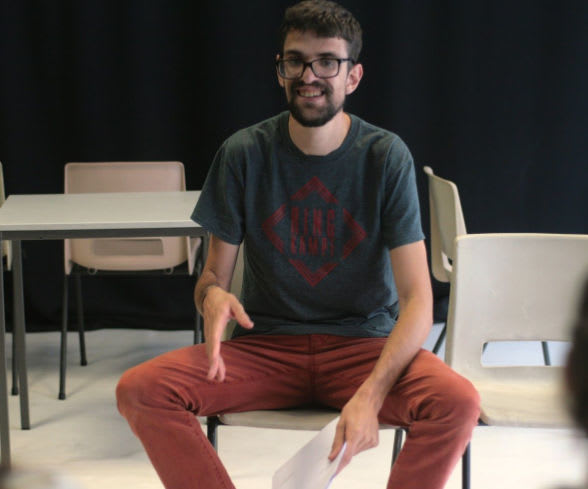 Neal Pike has a stutter. He calls it "my skipping voice." It isn't a "G...G...G...Granville" Arkwright-style stutter but a real struggle to get his words out, a struggle which can contort his face and, in an "ordinary" school, would lead to bullying and, as he says himself, "would get me thrown downstairs."
He escaped from the bullying of the local comprehensive and went to Foxwood, a special education needs school in Nottinghamshire, and Five Years is the story of those adolescent years. Using nine chairs and a table, he takes us on a tour both of the school and of his life.
There's quite a bit of humour there: "this is the art room where we went to draw badly and listen to Queen." How many, I wonder, have similar memories of art lessons?
There's happiness there, and anger, and friendship and fear—all the ingredients, in fact, of most people's adolescence. There's even a suggestion of sexual abuse.
He likes English and Science but not Maths, definitely not Maths, although one of his friends is keen. He does cross-country—everybody does cross-country at Foxwood—and one of his friends, who is faster than him, always stays just behind him.
They like going into town. They enjoy building a den in the woods. They love computer games.
All in all, they are typical young teenage lads. And this is what is so important about his story: he stutters as he tells it but, after reaching the point when he arrives at Foxwood, there is just one—slightly oblique—reference to it. He wanted to be the narrator in the school play but the teacher wouldn't let him and chose a boy with a "booming voice" instead. You could tell it upset him, but he shrugged it off.
Nor is there any reference to the needs of his friends. They obviously had special needs or they wouldn't have been there but you wouldn't have thought so from his narrative, for the story of his days at Foxwood could be the story of any lad of his age.
And that, I think, is the whole point. He lets us into the world of someone with special educational needs and we realise that it's the same world as ours.
But is it theatre?
Of course it is. He has come into the "empty space" and played out for us a story, a story which is engaging, warm and illuminating, and that is as much theatre as the greatest tragedy or funniest comedy.
Reviewer: Peter Lathan