Flamenco Flamen'ka
Directed and staged by Craig Revel Horwood
Lyric Theatre
(2008)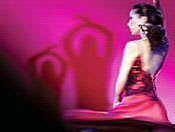 Flamenco Flamen'ka is described as a stampede of wildly passionate music and dance. If only it were.
Two brothers share the same prostitute. Three in an affair, as you will readily appreciate, is a bit crowded. So, they being Spanish, do the only thing possible in the circumstances: they kill her.
It is very difficult to follow the actual story-line – which is based on the works of Jorge Luis Borges, no less - and impossible to care about any of the glowering knife-carrying characters.
The action takes place in a cramped little square with Moorish pillars and tiled roofs. The sky is lurid. The acting is wooden spoof. The drama is absolutely nil.
Craig Revel Harwood is best known to television audiences as the acerbic judge in Strictly Come Dancing. His cliché-ridden staging is naff.
Karen Ruimy is hilarious as the narrator, who tells us four times in fractured English that "All it takes to die is to be alive."
The choreography is poor. The tango is tame. This show – evidently a sell-out in Paris - shouldn't be in a West End theatre at all, but on a cruise ship, a very slow cruise ship to some obscure destination.
The production is at its best when it forgets the story completely and just sticks to the flamenco and the fast-stamping macho foot work of the men.
The high spot is a dazzling and, for some audiences, a very over-extended solo by Manuel Gutierrez Cabello.
Watch his feet. You have to watch the feet.
Reviewer: Robert Tanitch