Flashdance
Book by Tom Hedley and Robert Cary, music by Robbie Roth, lyrics by Robert Cary and Robbie Roth
Selladoor Productions and Runaway Entertainment
Palace Theatre, Manchester
–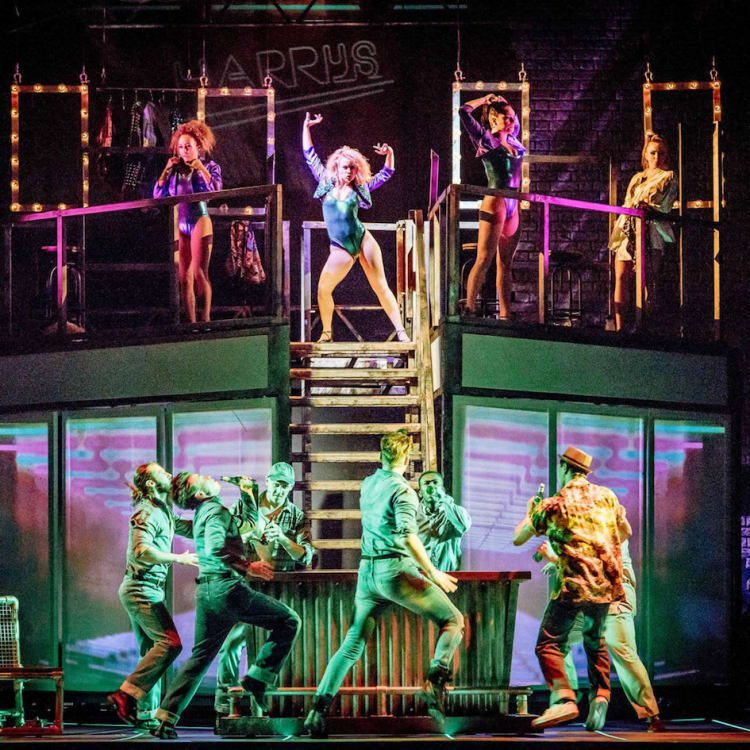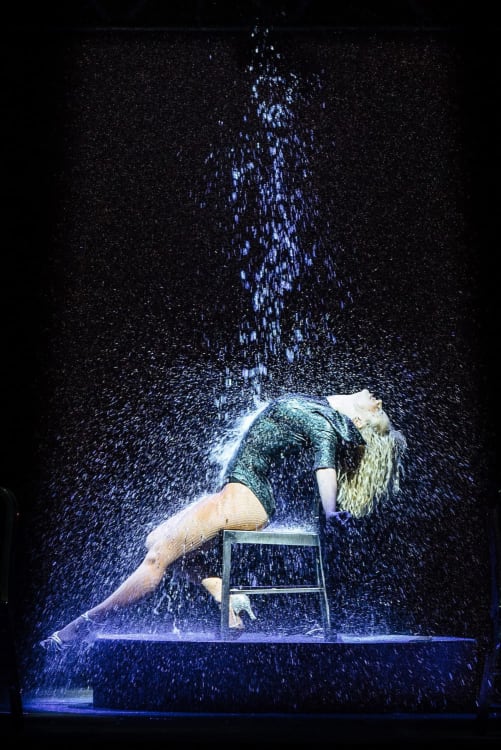 There are some excellent screen-to-stage adaptations out there (Sister Act and Dirty Dancing spring to mind). Don't go to Flashdance hoping to see something of that calibre. Set your sights at the level of a decent cabaret floorshow and you might come away reasonably happy.
One of the problems facing any staging of this story is that the suprising success of 1983's film version relied, in part, on it offering different things to different audiences. The story is part Cinderella, part Rosie the Riveter, part The Red Shoes (with a happy ending). This broad appeal is reflected in the diversity of tonight's audience—mothers with their daughters, groups of women on a girls' night out, a few men, even a smattering of seniors. To be fair, a lot of them seem content with what they're given. Good luck to them.
The stage is often over-crowded, scenery and cast/stagehands scurrying hither and thither—the corps de danse even joining Alex for her audition (the effect being to blur and mute what should be the most powerful scene of the show).
This confused production with its over-busy staging is never quite sure what to do with that other element from the original—film director Adrian Lyne's intimate pairing of the camera with Jennifer Beals's curves (a style he used to further commercial success in 9½ Weeks, Indecent Proposal and Fatal Attraction). The memorable moments of the film are so cinematic, they are difficult to recreate on stage, but the audience needs them, even if, like the 'cascade of water' moment, they fit uneasily into the show and can't come near the visual impact of the original.
Joanne Clifton brings unflagging energy to the role of Alex, and Ben Adams sings his way, sweetly enough, through Nick Hurley. However, none of the storylines is effectively delivered; passions run low (to be fair, the reconciliation of Gloria and Jimmy just about makes a fist of it). Much of the story is sung, each line so stuffed with lyrics the singers struggle with articulation. The cast needs firmer direction from Hannah Chissick—there are a couple of half-decent punchlines, but, too often, the emphasis and timing are off (the latter being an ironic shortcoming given Jimmy's opening gag to Gloria).
Matt Cole's choreography makes knowing reference to '80s music videos (e.g. Madonna's "Material Girl") but, no matter how hard the dancers work at it, they can't compensate for a lack of sparkle and surprise. It's drab and workmanlike fare throughout. Many of the dancers are at their brightest in their five-second curtain call routine, as if trying to make the point: "I'm better than this". For the most part, they are.
The audience, by the way, loved it.
Reviewer: Martin Thomasson