Flashdance the Musical
Book by Tom Hedley and Robert Cary, music by Robbie Roth, lyrics by Robert Cary and Robbie Roth
Sunderland Empire and touring
(2008)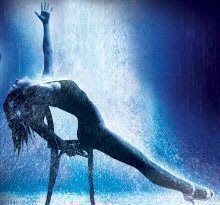 There are some shows for which the presence or absence of a reviewer seems an irrelevance. They are mainly musicals based on the back catalogue of very popular bands (Mamma Mia! and We Will Rock You are perfect examples) or on popular films, such as Footloose.
Flashdance is one such. Based on the 1983 film, it has a ready-made fan base and this was obvious from the outset at the opening night of the Sunderland leg of the tour. Apart from some seats in the Upper Circle and Gallery, this 2000-seater is sold out for the week and the excitement before the curtain went up could be cut with a knife. Squeals, screams and rounds of applause punctuated the show and, at the end, when the signature What a Feeling was sung, the audience went mad. And the excitement continued as the crowds streamed out to the multi-storey car park (where it took me nearly thirty minutes to get out from level 2!).
And there was much for them to be excited about. The quality of the performance - from the leads to the ensemble - was, as we have come to expect from touring musicals, very high and Paul Farnsworth's ingenious set slid smoothly from scene to scene with any possible longueurs covered by some extremely impressive street dance on the forestage.
Sound operation was spot-on and, apart from what seemed to be a flickering lantern in one scene, Jason Taylor's lighting performed smoothly and effectively.
Some people did leave at the interval, but let's face it, 1980s music is not to everyone's taste and there is more music than dialogue (or, at least, that's how it felt), so that may well have been the reason.
So, what more is there for the reviewer to say?
The plot is cliché-ridden, from the heartless steel mill boss and his conscience-stricken nephew (not quite "There's trouble up at t' mill", but getting there), through the "rich boy/poor girl" love story to the "bar dancer wows ballet school audition". The characters are, at best, two-dimensional and much of what happens is driven by the needs of the plot rather than arising from character: bad boy Jimmy (Bruno Langley) is determined to go straight but out of the blue robs the shop which is run by his friend's (central character Alex, played by Victoria Hamilton-Barritt) mother and kills her. One of the dancers (Gloria - she of the song) suddenly - or so it seems - becomes an alcoholic and, equally suddenly, starts attending AA. And so it goes on.
But for the audience, it doesn't matter. It's the music and the dance which are important, and Arlene Phillips' choreography and the performance by the talented cast is a real highlight of the show. It will do well and audiences will love it, no matter what I or other reviewers say!
Reviewer: Peter Lathan