Flesh and Blood & Fish and Fowl
Conceived and directed by Geoff Sobelle and Charlotte Ford
Barbican Pit
(2011)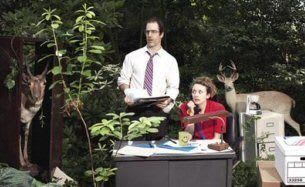 'Do something different' urges the publicity for the Barbican season: it is even on the programme. In this American contribution to bite11, which is also part of the 2011 London International Mime Festival, Geoff Sobelle and Charlotte Ford most certainly do, although at the same time their presentation of office life starts off as something familiar and ordinary, if somewhat magnified.
Most of us have been in a situation when a work colleague's habits and ticks become almost insufferable, or when a work relationship becomes embarrassingly close and that is the way things start off here, at Convenience Foods, where manager Jerry (Sobelle) emerges from a wheelie bin where he seems to have spent the night.
He seems to have nothing to do other than fiddle with papers and succumb to his passion for playing with post-it notes while assistant ('I am not your secretary') Rhoda (Ford) in a bright red dress and with an eccentric walk seems only interested in stuffing food into her mouth.
Are we in the back store of a supermarket or in a microwave meal factory? It doesn't really matter. What dialogue there is, is more for effect than information. Apart from these two employees the place seems strangely empty and deserted.. There is a hint that we could be in some sort of apocalyptic situation in which they are playing out their pointless routine as a way of maintaining sanity; they are certainly very jumpy at some of the strange sounds they hear and when lights flicker on and off..
Played with an exaggeration that verges on the grotesque, this was clowning that some found hilarious but that rarely made me laugh. Satirical it is certainly, but with an awkward sense of building discomfort, despite a meticulously performed and frenziedly funny sequence beginning with a buzzing fly that ends up with flypaper sticking a desk-full of paper and Jerry to a desk lamp.
Strange things are happening that become increasingly surreal. A raccoon or perhaps a wildcat pops out of nowhere then disappears, exotic plants push their way out of filing cabinets and through the walls, an elk peers through a doorway. The humans resort to bonking in the bin but after they emerge, having lost their outer layer of clothes, wildlife begins to take over, increasingly raw in tooth and claw and convenience food is no longer just in the microwave.
Less self-indulgence on the part of the performers might sharpen the comedy and make the impact of the whole piece stronger as it builds to its dramatic finale. It won a Fringe First Award at Edinburgh and perhaps the playing of the earlier part is best suited to a more indulgent festive audience but at the end of its 65 minutes earlier smiles were firmly frozen.
At the Barbican until 29th January 2011
Reviewer: Howard Loxton