Flew the Coop
Rianna Dearden
Lost Watch Theatre Company
New Diorama Theatre
–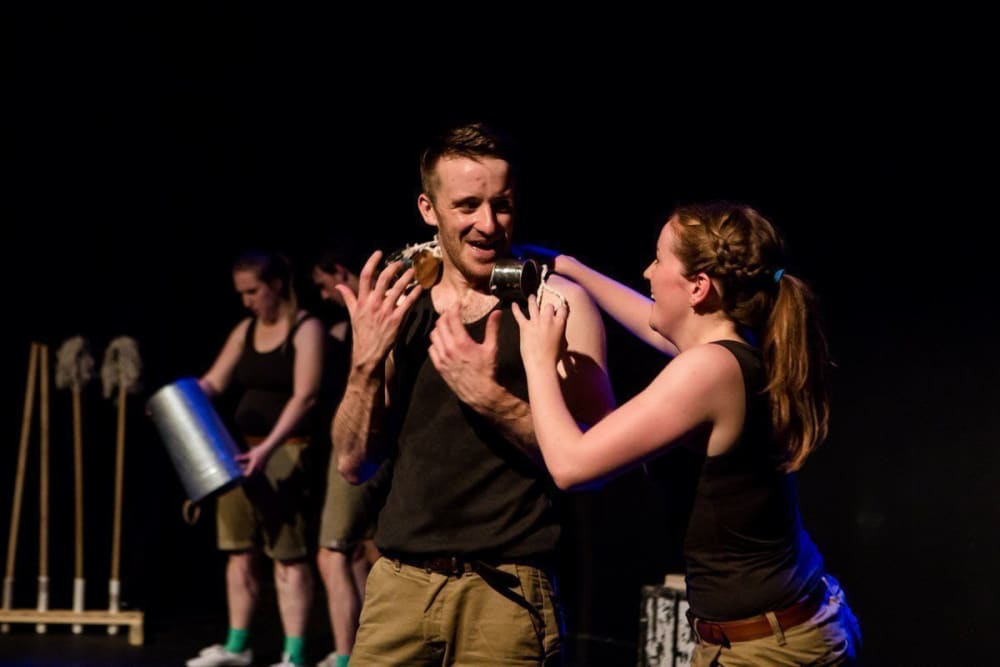 Meet the RGASC (Rauchbach Greasley Association Society Club) as the Lost Watch Theatre Company becomes for this enjoyable and lively show.
It is a Club set up to make sure that two special heroes of World War II don't go forgotten. Their full membership is just five people; all of them are involved in telling this story of Rosa Rauchbach and Horace Greasley—and it's a true one (apart from what they've made up).
RGASC meets every Friday in the broom factory belong to a member's dad and the number of brooms and mops about suggest that's where they're staging this performance. Broomsticks make good props, which is useful since the setting is a POW (Prisoner of War) camp and all the German guards need rifles.
It is 1943, as the cast constantly remind us, and we are in German Silesia, whose people still have a strong national identity although their land is not divided between Germany, Poland and Czechoslovakia.
Horace Greasley is a British POW; he's found a role as the camp barber. Rosa Rauchbach is the camp's new interpreter, the first woman he's seen for 442 days. Rosa is looking for love or, as one performer puts it, a shag. This is a comedy, I forgot to mention, though a sad one.
Rosa's father has got the job of running the camp's working parties but he's not German. The family are proud Silesians and, in fact, are Jewish. He cleverly started a fire that destroyed all the village records before the Germans got them and so saved their lives and those of half its population.
She wants a shag; he and his mates want food and she can smuggle it in and other things they need but this isn't just a transaction. On their first kiss, the whole place symbolically explodes in a kooky dance routine. All the inmates take vicarious pleasure in Horace getting his rocks off. Each time there's an outburst of dancing.
Rosa times the guards and calculates there are 4½ minutes when the enemy were on the far side of huts and couldn't see them together, but soon they are making outside assignations. Horace makes 206 escape attempts to meet her, though escaping further proves impossible.
Daniel Holme is lucky Horace, Rianna Dearden a Rosa with deceptively innocent wide eyes and with Dan Armstrong, Olivia Hirst and Agnes Wild they form an ensemble to play all the other roles including German guards, other POWs, the girls in the office and Rosa's family.
Director Louise Skaaning and the company's invention keep things moving as they disclose the details of the story. It is done with a great sense of fun and just a touch of sentiment. At just under an hour, it is constantly engaging, though longer it might run out of steam for it is a slight piece.
It works because it is totally without pretensions, happy to be a clever and well-performed review sketch. Ideal for those who like their entertainment in small doses rather than a full evening of theatre but even better if it were a programme opener to a double bill.
Reviewer: Howard Loxton