Flight
Adapted by Oliver Emanuel from Caroline Brothers's novel Hinterland
Vox Motus with The Barbican and The Bridge
The Bridge Theatre
–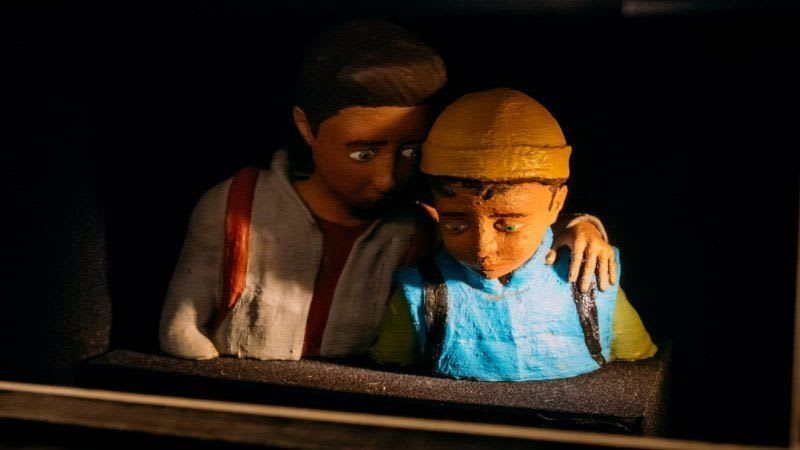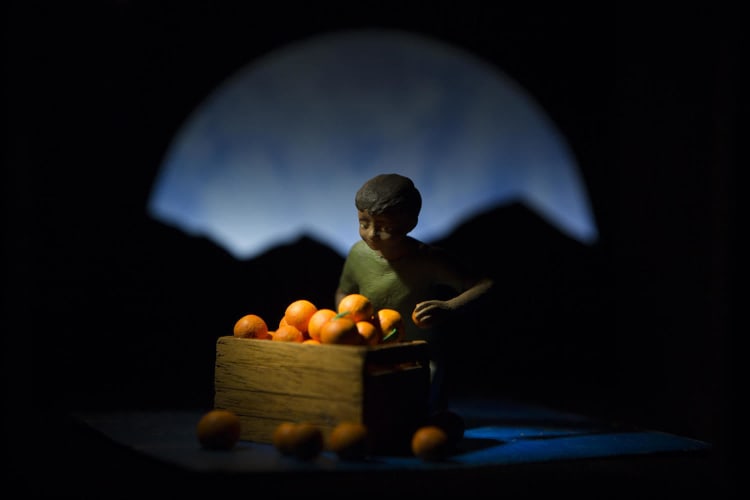 In 2011, Caroline Brothers published her novel Hinterland. The story of two Afghan boys, orphaned brothers Kabir and Aryan, is fiction but not fictitious. It is based closely on real life and journalist Brothers's own interviews with child refugees, including those she spent a night with in a shelter in Paris or met in on an Athens street. Scottish company Vox Motus directors Jamie Harrison and Candice Edmunds decided they wanted to turn the book into theatre in 2013 and eventually chose to make it for an audience of one seen in close-up.
The begin their long journey with $2,000; we don't know where that came from or how they crossed into Turkey, but, by the time they are in an inflatable dinghy crossing the River Evro to get into Greece, they have already worn out their trainers. They make it across but then find themselves stuck on a farm as cheap labour. Younger Kabir is already finding it difficult to remember; "am I really an Afghan?" he asks.
They make it to Athens, though Aryan briefly loses Kabir there. The city is part of the mantra with which they keep themselves going: "Kabul, Tehran, Istanbul, Athens, Rome, Paris, London," and they do get across into Italy where they ask a relation to help them and take a train into France—only to be picked up by the police.
They try again and reach Paris, but are three days without food, but get help from some American girls on a European holiday. Eventually, they reach Calais and the refugee camp known as The Jungle and then find a place hiding in refrigerated meat truck to cross the channel.
At one point in this tragic story, (though it is only referred to) a smiling man rapes one of them. Some people treat them badly and police and officialdom are frighteningly presented as predatory seagulls, but there are some good moments too, as when migrating birds seem to guide them, they find swans with signets, or go for a swim on the sunny Riviera, or meet the girls who buy them shoes and food.
This is a sadly familiar story of things still occurring but it has never been told this way, a way that makes it poignantly personal, for the performance is for you alone. It is theatre that each person views in their own little cubicles: a kind of peepshow that presents a sequence of images, sometimes more than one at a time in the form of carefully crafted miniature dioramas. They are co-designed by Harrison with Rebecca Hamilton who led the model making.
Some of the settings are almost photographically lifelike (a night scene of car lights on a highway for instance) and a reminder that this is set in our real world there is a stylisation in design that has a children's book innocence and emphasis on the important. It is something like manga in 3D with images read in sequence, with Simon Wilkinson's lighting sometimes providing an editing rhythm like film montage.
The detail is fascinating, the proximity of the image (you can pull your seat right up close) makes it almost immersive and there is a dramatic and emotion-charged music and sound score by Mark Hamilton that carries you with it. The storytelling is in the hands of narrator Emun Elliott with Farshin Rokey as Aryan and Nalini Chetty as Kabir contributing the boy's dialogue and brought together they are powerfully effective.
Vox Motus' Flight is a rich experience that lasts just about an hour, though you need to arrive 15 minutes beforehand. I wanted to watch it again. I hope that you get the chance to see it for I write under the threat of a tier change that may affect that.
Reviewer: Howard Loxton