Flight Path
David Watson
Out of Joint and the Bush Productions
Sherman Cymru Theatre, Cardiff, and touring
(2007)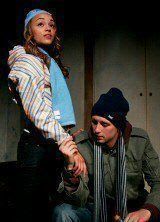 David Watson's latest play is an edgy and passionate portrayal of an 18 year old boy, Jonathan (Cary Crankson), who is struggling to find his path through life. It is a salutary tale: Jonathan's parents' relationship has fallen apart, his mother has immersed herself in her new career and Jonathan is left to care for his 25 year old brother with Down Syndrome, who really doesn't want to be cared for by anyone. Meanwhile his best mate, Joe, is urging him to "get on the property ladder" - that's burgling houses, not buying them.
Through all this Watson succeeds in giving the piece an inherent and unbreakable spirit where an older and more jaded playwright would perhaps have succumbed to bleak pessimism. Watson's Jonathan retains hope, rediscovers a touching, inter-dependent relationship with his brother, Daniel (Scott Swadkins), and falls in love with a beautiful young Lauren (Ashley Madekwe).
Watson has his characters speak in truncated, staccato phrases; sentences are only rarely completed and the dialogue is laden with pauses, repetition and lost clauses. Under the direction of Naomi Jones, the cast masterfully make this their own. From the middle class parents, (Will Knightley as Sean and Mossie Smith as Susan), to the centred and hip Lauren, the tormented Jonathan, and the edgy and dangerous, patois-speaking Joe, this truncated speech takes on an easy naturalism.
In addition, few characters ever really speak their mind. Perhaps the exception to this is Danny, who tells it like it is: "I'm not actually interested in Down syndrome I just want to be me That's all". Swadkins, who described himself as a "disabled actor" in a post show discussion, gives a memorable and impressive performance in his stage debut; nevertheless it seems a missed opportunity here, that Out of Joint chose to not to cast an actor with Down syndrome for this role.
Jason Maza excels as the raw and edgy young Joe, clinging to a friendship which he can see falling out of his grasp. Madekwe and Crankson are captivating in their portrayal of young love, and their final scene with Swadkins is well-crafted and deeply affecting.
The play's weakness is the portrayal of the emotionally detached parents, perhaps as much to do with Watson's text and Jones' direction, as with Knightley's and Smith's unconvincing performances.
But overall this is a great piece of theatre, from a talented young ensemble and a promising playwright.
Philip Fisher reviewed the premiere of the play at the Bush Theatre
Reviewer: Allison Vale