Floating
Sam Freeman
Lives of Others Theatre
Unity Theatre, Liverpool
–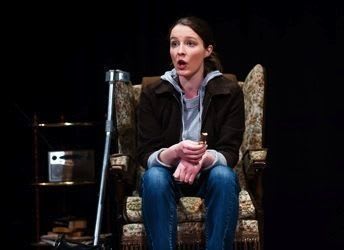 'When someone passes on, sometimes all you can do is have a Twix.' That well-known caramel- and chocolate-covered biscuit, it seems, is not just a comfort but also an indicator of how tough a working day our storyteller, an NHS nurse, has had. Three Twix Days are rare, but they happen.
Sam Freeman is the writer and director of this returning production of Floating. I worry about young writers who direct their own work. In the case of Floating, a monologue on the personal and professional life of a nurse assigned to a High Dependency Unit (HDU), for patients who are 'fucked but not totally fucked', my worries are magnified.
It takes a very special writer to hold an audience for 60 minutes using a single voice (for comparison, it should be noted that even Alan Bennett's celebrated Talking Heads series did not push past the 40 minute mark).
Susannah Freeman, in the role of the nurse, works hard to bring life to a woman doing her best in an increasingly difficult job. This nurse is a carer in the full sense of the word, and we like her and want to enter into her world. Unfortunately, the character never quite takes shape, and we find ourselves more often in the presence of an actor working her socks off, rather than drawn into the life of a nurse trying to reconcile herself to the demands of her vocation.
As a dramatic form, monologue has three possible sources of power. The first is in positioning the audience—who are we? An interview or disciplinary panel? Judge and/or jury? Relatives of the deceased? Counsellor? There are many possibilities, any one of which is preferable to just plain 'audience', which is the role we play this evening.
The second issue for a monologue is a matter of motivation—what's driving this character to unburden herself, here and now; in this place, at this time? Floating fares better on this count—our nurse has had a Three Twix Day, the kind that might well make her pause and take stock—but the emotional triggers for this need exploring more forensically.
The third and most important element for a monologue (and, indeed, any drama) is specificity (as opposed to generality). Too much of Floating sees our nurse ranting about what 'they' do, or what tends to happen to 'them'. Even the positives of the job receive this broad survey treatment. Among the litany of miseries, we're told 'we have a laugh as well', but there is no comic anecdote, no particular experience to help us live this comradely humour with her.
By the time our nurse at last casts off the generalities and begins the stories of Mr S ('the patient from heaven') and Emma ('the patient from hell'), the chance to draw us deep into the emotional realities of this world has been lost. Even her own personal relationship with Johnny slides into cliché and sentimentality.
The setting, with its single, worn armchair, solitary birthday card and old transistor radio, places us clearly in the living room of an elderly person, but not enough is done to raise in the audience's mind the question of what this young woman with the bunch of flowers is doing there. Thus, towards the end, we receive the answer to a puzzle we haven't really been pondering.
The writer declares himself 'not an inherently political person' and certainly the script avoids confronting controversial issues about government policy (past or present). This choice makes it all the more peculiar that the production elects to top and tail the performance with recorded extracts from an NHS speech by David Cameron; a decision which allows the Prime Minister (courtesy of his speech writer) to close the show with the wittiest lines of the evening.
The NHS deserves and needs examination in the dramatic arts right now, but it needs them to be bolder, more urgent and more truthful than Floating.
Sadly, for all its noble intent, that we should 'not lose faith in the humanity and brilliance of the people around us', Floating leaves its audience in need of a Twix or three.
Reviewer: Martin Thomasson