Flora the Red Menace
John Kander and Fred Ebb
Dundee Repertory Company at the Lyceum Theatre, Edinburgh, and touring
(2004)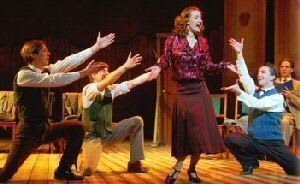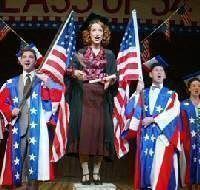 An outstanding ensemble performance by Dundee Rep of Flora The Red Menace, the original musical collaboration by Fred Ebb and John Kander which has, unfortunately, been overshadowed by their subsequent hits, Cabaret and Chicago.
Set in New York at the depth of the 1930s depression the delightful heroine, Flora Meszaros (Emily Winter) is a newly graduated fashion designer who sublets space in her studio to a number of other struggling artists but, reminiscent of the Barter Theatres of that era, when actors moved from the city to the countryside and performed in exchange for foodstuffs, she accepts rent 'in kind'. When she meets and falls in love with, the stammering Communist Harry Toukarian (Richard Conlon), she rents him space in exchange for apples. Already in situ are Willy (David Stothard) a musician, Kenny and Maggie (Stuart Dawes and Alison Connel), a dance duo whose amazing tap routine is just waiting to be discovered, Elsa (Irene MacDougall) a dress designer, and Mr Weiss (John Buick) who repairs watches. All of them are desperate to find work.
Harry persuades the love smitten Flora to join the Communist Party where she meets a contender for his affections, Comrade Charlotte, superbly played by Annie Louise Ross. Charlotte's unrequited lust for Harry provokes a hilarious bedroom farce.
Reviewer: Kaye Gilmour