Where the Flowers Grow
Mark Norfolk
Ka-Zimba Theatre in association with the Warehouse Theatre Company
Warehouse Theatre, Croydon
(2011)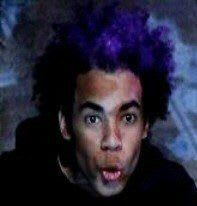 Any parent who has had to cope with teenage children is likely to find echoes of their experience in Where the Flowers Grow, especially if they are coping with them now in a world where youngsters seem to live their lives on mobile phones and the internet. Perhaps the generational gap was always there but, in the days when for most school ended and working life began at 14, or even 16 and they had to live a life of grown up responsibilities, it was not so marked.
The family Mark Norfolk presents in his new play has other problems too. Victoria is on medication for clinical depression and thinks her husband Vernon is cheating on her; Vernon is in fear of losing his job and son Tony is failing at college and there is a tragedy in the past that they keep from Tony which still blights their lives with loss and guilt. They are a mixed race family, though this is not implicit in the text: Vernon is black, and the age gap is emphasised by the hip-hop south London accent Tony uses, indeed much of his speech is close to rap.
Heike Scharrer's elegantly simple set is divided into the family sitting room and Tony's bedroom, where he sprawls on his futon glued to his laptop and online chatrooms, especially a suicide site, with a variety of projections thrown on the wall of his room whenever Tony is online, though it took me a while to realise that his rants were actually one side of online conversations.
The play opens with a flash view of Tony in his room and than an awkward opening scene between his parents but performances and our understanding begin to gel as the play proceeds, though the script is reticent with information and only gradually are dark secrets revealed, with no obvious reason why the adults need to keep them secret.
There may be a dramatic first in one scene when Vernon 's part of a conversation with Victoria also is simultaneously an online conversation with his son but Jeffery Kissoon's production does not entirely weld its more stylised elements with its more naturalistic features. Ashley Gerlach is forceful as the troubled Tony and Roderick Burrows as Vernon suggests a long-suffering husband who may be reaching the end of his tether rather than a guilt ridden father ,but I never quite believed in Jodyanne Richardson's depressed mother, though she's not helped by a script that tells us little about her state which appears to go back to before Tony's birth. With two suicides in the story and a number of melodramatic confrontations, Where the Flowers Grow flirts with a somewhat spurious theatricality instead of providing real insight into the generational dilemma at its heart.
"Where the Flowers Grow" runs at the Warehouse theatre until 26th June 2011
Reviewer: Howard Loxton