Fluff: A Story of Lost Toys
Christine Johnson
Cre8ion
Curve, Leicester
–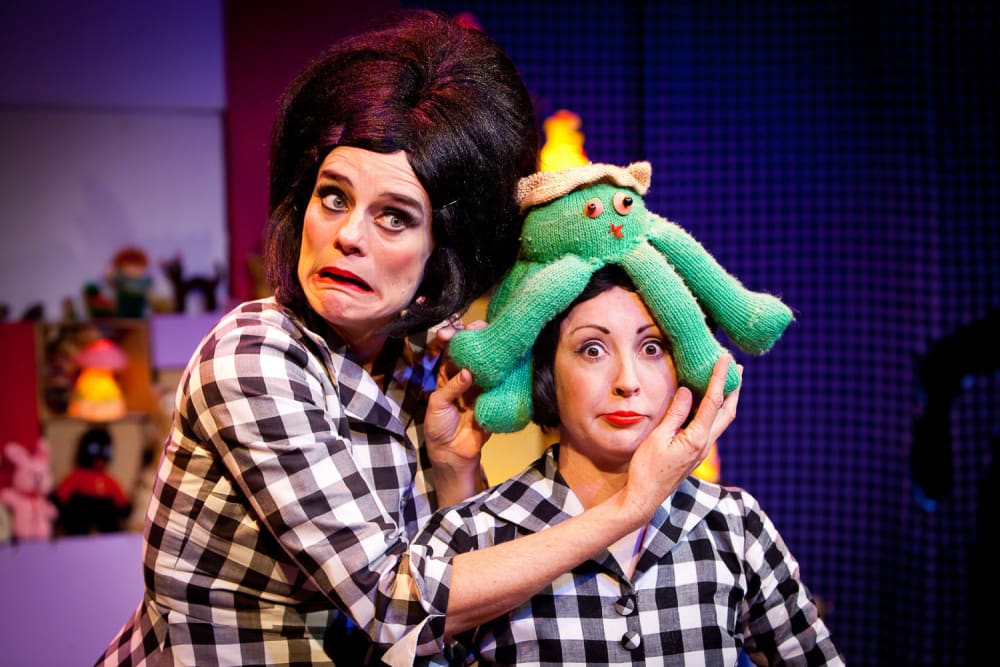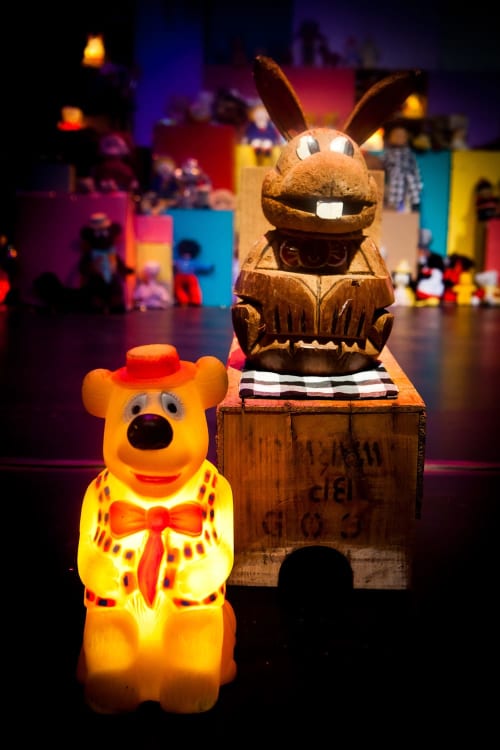 A pyramid of coloured blocks covered with soft toys and fringed with fairy lights is an enticing sight for a child and Cre8ion, makers of Fluff: A Story of Lost Toys, knows just what buttons to press to engage a young audience.
Fluff: A Story of Lost Toys is one of the opening shows in this year's Spark Festival, run by The Spark Arts for Children since 2003 and offering children "the opportunity to discover and enjoy the arts as audiences, as learners and as creators of their own art." It is now the largest children's arts festival in England and Wales and takes over Leicester for two weeks every spring half term, as well as projects running throughout the year.
Fluff goes straight to two top items on a child's daily agenda: toys and bedtime. We meet the Gingham family: DJ G (Peter Nelson), Joan (Christine Johnson, also creator and set designer) and Betsy (Lisa O'Neill, also chroeographer). Joan and Lisa travel the world looking for lost toys, those rather special, often odd-looking handmade soft toys that remain close to your heart and pillow as you grow up.
Through use of projected images, we see how ten toys came to be lost: dropped from a car window and run over by a lorry ("Flatsy") or left under a chair at Grandma's house and hoovered up with the crumbs ("Tiny Fluff"). But now they're with the Ginghams, they are accepted, loved and given a name and bed to sleep in.
This is a surreal, noise-fest of a show, full of colour and using sampling, mixing, physical comedy and dance to characterise each toy and get them all into bed and asleep. Mayhem ensues when, of course, this doesn't quite go according to plan. From Chicken Maria, the flamenco chicken, Joy, the angelic teddy, naughty Disco Frog and, my own favourite, Scary Cheeks, the knitted rock chick, distinct characters have their moment on the stage.
Johnson's toweringly beehived Joan is wonderfully maternal, always asking the toys, "are you alright?", before giving them a voice through her mind-(and ear-) blowing range of sounds and song. The diminutive and largely mute Betsy assists with impressive physical comedy and facial expressions. DJ G's on-stage mixing and sound effects form the core of this show. All three combined is magic and utterly bonkers.
Ideal age range is somewhere between four and ten but we all join in; the interactive elements are great fun as Joan roams the audience gathering frog and chicken noises which all go into the sampling pot.
This show is for theatre's newest audience members (and possible future theatre makers), and if this is their first trip to the theatre, what a wonderfully fun show with which to begin. One of the reasons often cited as to why people don't go to the theatre is they find it a threatening experience. As I looked back on my way out, the performers had welcomed the audience on stage, encouraging them to touch the set and props.
Joan was swamped by children whose spontaneous response to the show was to give her a hug. Heartwarming.
Reviewer: Sally Jack