The Magic Flute
Wolfgang Amadeus Mozart
Glyndebourne on Tour
The Forum, Bath
(2008)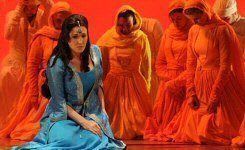 On a miserable cold and damp November night if anything could life the spirits then the Glyndebourne production of The Magic Flute surely offered the best chance of leading the way out of darkness and into the bright light of morning.
And so it proved. Shorn of visuals it may have been, but this semi-staged production, seen earlier this year at Glyndebourne, was not short on magic, and there was a rich sense of interplay both among the cast and with the audience, led by a lovely performance by Daniel Schmutzhard as Papageno.
Among the highlights was a touching exchange by Schumtzhard and Eliana Pretorian as Papagena as they look forward to a life of wedded bliss together, exchanging pet epithets and enumerating the numbers of their future progeny.
Schumtzhard's enthusiasm and sense of genuine enjoyment proved infectious and there were outstanding contributions too from Lothar Odinus as an ardent and impeccably-voiced Tamino and Ana James as Pamina, the object of his desire. I also enjoyed some fine skulduggery by Alasdair Elliott as Monastos.
The only real sense of disappointment came with some sharpness by Mari Moriya as the Queen of the Night in the fiendishly difficult arias and in the third act when the concert staging undermined a real sense of theatrical climax.
Some edits were made to the libretto which weren't always helpful, notably when Papageno's claim that he killed the serpent is cut, leaving a newcomer in the dark as to why he is subsequently deprived of the power of speech.
There was fine support from the Glyndebourne Chorus; the three boys George-Evans Thomas, Daniel Marx and Harry Manton, and from the Glyndebourne on Tour Orchestra conducted by Douglas Boyd. Delightful.
Reviewer: Pete Wood