Fly Me to the Moon
Marie Jones
Òran Mór and Paines Plough
A Play, A Pie and A Pint Traverse Theatre, Edinburgh
(2010)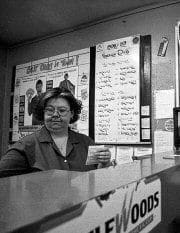 In this death of a Sinatra fan, two carers are faced with a dilemma when the 84-year-old they are looking after dies on pension day. Francis (Katie Tumelty) and Loretta (Abigail McGibbon) find that things get out of control when they keep the pensioner's death secret to make a few bob. It isn't as dark as it sounds though, as Francis and Loretta prove quite a hoot.
The pair work very well together with dialogue snapping neatly between them; not only are they great talkers, undoubtedly helped by the Irish accents, but also endearing characters. Francis is the more scheming one who persuades Loretta that they aren't doing anything wrong, Loretta meanwhile is the more hysterical, with some great extended pieces of umming and ahhing.
Underneath the humour there is problem of our aging population and growing need of the help, something that the lunchtime A Play A Pie and A Pint audience were very much aware of.
A wonderful little piece like Shallow Grave conceived by French and Saunders.
Until 25th September
Reviewer: Seth Ewin